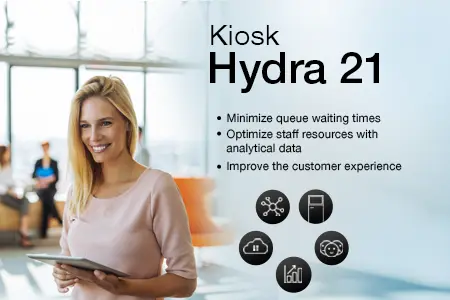 Kiosk Hydra 21
The most powerful customer flow management software on the market today
Kiosk Hydra 21 represents a step forward in the market of queue management systems or CFM (Customer Flow Management) present so far on the market.
Thanks to its innovative flow management engine, it simplifies the problems related to queues, helping to reduce waiting times and favoring an effective management that knows no equal.
Based entirely on digital technology, our queue management system in addition to carrying out the task of addressing and sorting users directly to the counter in charge for the requested service, offers levels of efficiency far superior to other queue management systems and impacts on management and rationalization performance like no other system on the market, thanks to its ability to optimize the customer journey.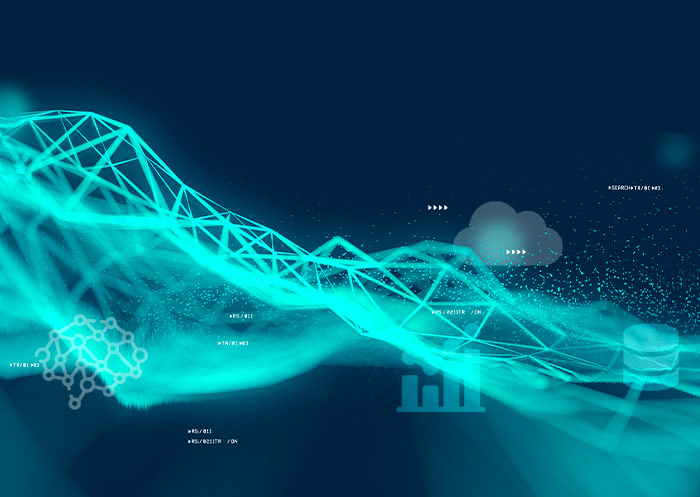 An advanced queue management platform
Kiosk Hydra 21 is not a simple queue management system, but an advanced software platform for the administration and performance of counter activities, the control of human resources and communication, suitable even for the largest and most complex organizations.
It is a modular, flexible and intuitive solution that offers a range of fully integrated functions to simplify and automate the processes and service problems within a single branch as well as in networks of multiple branches located throughout the territory.
All centrally.

Designed to facilitate customer service requests, it allows queue management through a single administration console accessible anywhere. Kiosk Hydra 21 not only simplifies the control of the offices in the area, but also facilitates and organizes the publication of information and entertainment content with a few mouse clicks.

Its scalable architecture makes this Customer Flow management platform a valid investment for today's and tomorrow's needs of any quality-oriented reality. Thanks to the modules of Kiosk Hydra 21 it is really possible to range from Business Intelligence functions, to booking management, monitoring and alerts on mobile and much more. All to offer a truly satisfying customer experience.
Why Kiosk Hydra
Kiosk Hydra 21 is the software platform that introduces new functions and methods in the management of queues, services and counter activities, and does it in the simplest, most effective and flexible way imaginable.

Used by important Italian entities of the Public Administration, Hospitals, Banking Institutes, Authorities, Kiosk Hydra 21 uses the newest digital signage technology to offer complete centralized management of front office and back office activities, typical of single and multi-site realities. , single service and multi service, innovating the traditional concept of queuing system.
A modular queuing system
Completely renewed in the interface, with new management features and a powerful Statistical Analysis engine, Kiosk Hydra 21 is the right tool for those Quality-oriented realities, which need refined control tools to respect their KPIs, act promptly with maximum optimization of resources.

Designed to allow employees to work at their best, wherever they are and to provide customers, users and patients with the best waiting and attention experience possible.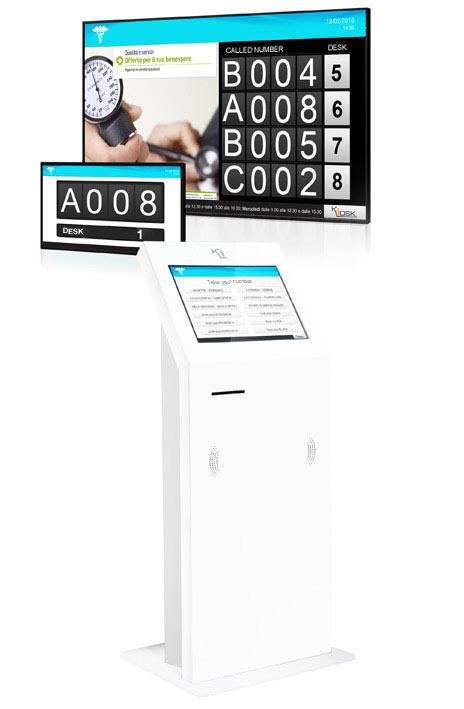 Kiosk Hydra Ex, Kiosk Hydra Cloud, Kiosk Hydra Booking

Three solutions to satisfy every type of need
Kiosk Hydra Ex
Advanced queue management system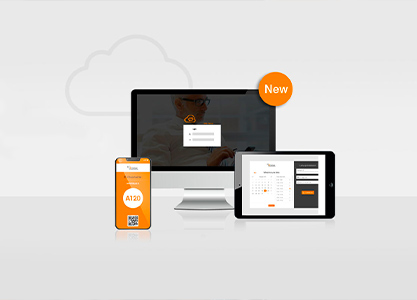 Kiosk Hydra Cloud
Queue management system in cloud
Customized for different markets
Kiosk Hydra is a verticalized platform, developed to meet the specific needs of each market.
Choose the right management system for your business.
Would you like to know more?
Our experts are able to support you in defining the optimal solution for managing queues in your business.
Plan your project carefully.
Would you like to know more?
Our experts are able to support you in defining the optimal solution for managing queues in your business.
Plan your project carefully.

For more information on our queue management platform,
please visit our website:
www.kioskeliminacode.it
Here you will find details on the hardware components of the queuing system such as ticket dispensers, remote counter, displays and much more.
Partner with Kiosk
By becoming our partner, you can ensure successful results for your customers.
Benefit from our skills and our marketing tools to give value to your customers and differentiate your business.
Less risk, less cost and a guarantee to deliver the expected business results to your client.
---
© Kiosk, All rights reserved. The use of this website implies the acceptance of the terms of use and the Privacy Policy.
Kiosk - C.so Borsalino 19/A, 15121 Alessandria. Italy - T. 0039.0131.250.313