Dise CX
Dise CX is the web portal of the Dise platform, where you can manage and schedule your content and create dynamic viewing experiences.
The Dise platform coordinates all parts of the digital signage solution, from player management and file storage to playback statistics and status management.
The Dise CX Portal provides the user interface for the Dise platform. Users can easily and securely access the CX Portal from any browser and device.
You'll get the same intuitive experience on whatever device you're using, thanks to the responsive intelligent interface that scales to fit your device's screen.

Using the CX portal, you can list and manage the player settings and the contents present in it.
The Dise Premium and Dise Lite players that are connected to the CX platform, not only report their operating status, but remain up-to-date with the latest information provided.
Changes are made by users in the CX portal and once posted to players they react accordingly, for example by downloading new content or removing content as required. The players will report the playback information of the logs. The process of installing or replacing a player is simplified and makes its configuration simple and efficient.

Dise players are configured to play content, in the form of a playlist or layout.
These are managed through the CX portal. You can upload multimedia files such as videos and images from your device and add them to a playlist.
You can add and preview content and web pages directly from the portal and change the order and schedule the content as you wish.
Organize playlists in layouts for multiple levels or zones on the screen.
Users can easily edit the content in various templates uploaded directly from CX Composer to the CX Portal.
Their changes can be viewed immediately. Portal users can be organized into groups for easier management.

More options are available when you log into the portal.
Entire sections of player and content can be separated by brand.
Based on their role in the system, users or user groups can be set up with hierarchical permissions to simplify and verify that only certain people in the organization can modify the content assigned to them.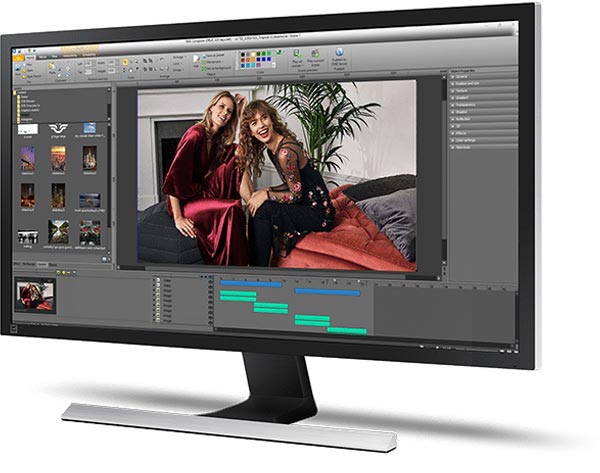 Dise CX Composer
Dise CX Composer is a creative tool used to design templates, dynamic content and interactive experiences.
Dise Composer is often recognized as the market leader when it comes to high performance content creation. Dise CX Composer is a complement to the Dise CX portal and provides access to tools for creating simple and advanced digital signage installations.
In Composer, you can create and manage multi-layered presentations with dynamic content. Content creators can create content that runs on Dise Premium and Dise Lite players. Presentations can be previewed, then saved and uploaded to the CX portal for distribution to Dise players.
Drag and drop media files into your presentations and organize the content in a timeline. Bring photo feeds, live recordings and video streams to mix with your content. Text objects, tables, tickers (scrolling texts) and clocks are available and customizable.
Add effects, transitions and motions to make everything pop.
Dise templates are also created in Composer and offer a way to make content editable in the CX portal.
The content creator can specify which elements in a presentation can be seen and edited by CX Portal users, such as a header text or a news image. In this case, the header text or news image is displayed in the web interface as an editable field.
This makes it easier for you to organize and authorize the publication of content on your screens.
Designing schedules for more than one screen is as simple as it is for single screens, making CX Composer ideal for creating video wall content. With Composer you are able to manage large surfaces with multiple screens and accounts in addition to the physical distance between the screens.
This also allows you to create flawless synchronization.
Make your content dynamic and change based on a schedule or triggered event.
In CX Composer you can set up dynamic data connections to other systems such as RSS or databases, which ensures that content updates take place without the need for manual intervention. Insert live web pages and interactive elements to control playback.
Dise offers two different alternatives for players: the Premium version and the Lite version.
Dise Premium Player
Dise Premium is the most advanced software version for content viewing. Choose Dise Premium when you want a high-performance, feature-rich or interactive solution. So powerful yet so easy to manage through its cloud-based interface. This is the suite of products that will help you create and manage simultaneous, dynamic and reliable digital communications in store.
Dise Lite Player
Dise Lite is a stripped down version of Premium and is really easy to use. With the quick install guide, you'll be ready to view your content in no time.
Dise Lite is suitable for customers who are looking for a simple solution and want to view basic content such as images, text and videos.