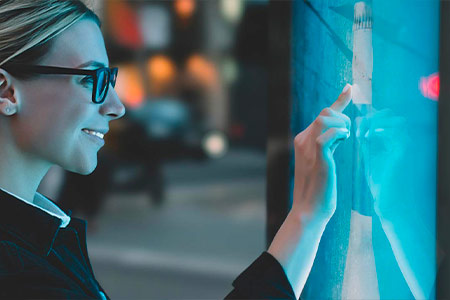 Services and projects
for fascinating omnichannel
experiences
brand identity
digital marketing
UX / UI design
software development
content design and management
Servizi e progetti
per esperienze omnicanale
affascinanti
brand identity
digital marketing
UX / UI design
software development
content design and management
Creative and strategic services for digital experiences
memorable, consistent and omnichannel
Many Italian companies have entrusted Kiosk with the definition and implementation of important digital projects.
Kiosk, thanks to its internal team, has provided advice and concrete implementation skills, in the technological, analytical and design fields, as well as creative.
Every piece has been taken care of, from the concept to the planning, from the creation of content to the schedule, from the design of apps and interactive interfaces, to brand design and software development, up to of course a complete technical support service.

Discover the value of our services.
Method
Doing one thing is one thing. Doing it well requires competence and a valid procedure, tested and refined over time. Only in this way can it be ensured that time and costs are respected, and compliance with the objectives and strategic directives in progress.

During these years we have faced projects that are different in nature and complexity, but in the end, the observance of a precise working methodology has always borne fruit.
Ours is a team composed of talents with matured experience working together, with different skills but governed by a rigorous process that mixes creative, analytical and technical thinking that adapts to brand design projects, software engineering, information design.

The type of client and nature of the project is different depending on the case, but the process remains the same.
What changes is the depth with which each phase is conducted.
We go hunting for key points
Through careful market research and subsequent analysis, interviews and brainstorming, we define positioning strategies, discover opportunities and generate ideas that guide the process of designing and implementing the solution.
We design ideas
In this phase, sketches, drafts and concepts are produced that translate the ideas that emerged in the previous phase. We visualize the future, explore application directions and define feasibility paths.
The concepts become prototypes ready to be tested, revised, modified until they reach the right focus.
Ideas turn into reality
In this phase the actual project is carried out, also in terms of the specifications necessary for its implementation or its putting into production.
We follow every phase of the realization of the finished product, up to its launch and fine tuning.
Partner with Kiosk
By becoming our partner, you can ensure successful results for your customers.
Benefit from our skills and our marketing tools to give value to your customers and differentiate your business.
Less risk, less cost and a guarantee to deliver the expected business results to your client.
---
© Kiosk, All rights reserved. The use of this website implies the acceptance of the terms of use and the Privacy Policy.
Kiosk - C.so Borsalino 19/A, 15121 Alessandria. Italy - T. 0039.0131.250.313