Kiosk Targa
the complete solution for Meeting Room Booking
Designed specifically for Corporate realities and chains of Hotels, Conference Centers and Meeting Centers, Kiosk Targa meets three important needs of today's workspaces: the need to book meeting rooms with extreme ease from any position, to show on monitors the information relating to the status of single rooms and on large-format displays the directory, to publish updated information and promotional contents on a network of displays.

Kiosk Targa is a workspace management solution, designed to correctly manage the specific needs of companies, conference centers and hotels, the educational world.

Perfect for today's workplaces: dynamic, collaborative and flexible.
Meeting Rooms Booking and management
With the new version of Kiosk Targa you can book the meeting room that best meets your need for work or briefing with the client.

A few clicks to see the availability of the free rooms, book the most suitable workspace and show the occupation on modern outdoor displays.
Whether you are a hotel, a large company or an organization with numerous spaces to be used and managed for business meetings, Kiosk Targa is the ideal meeting room booking solution.

Convenient meeting room booking calendar is accessible from any device thanks to its web interface. And the booking can be done where you see fit: using the platform or through the integrated touch systems.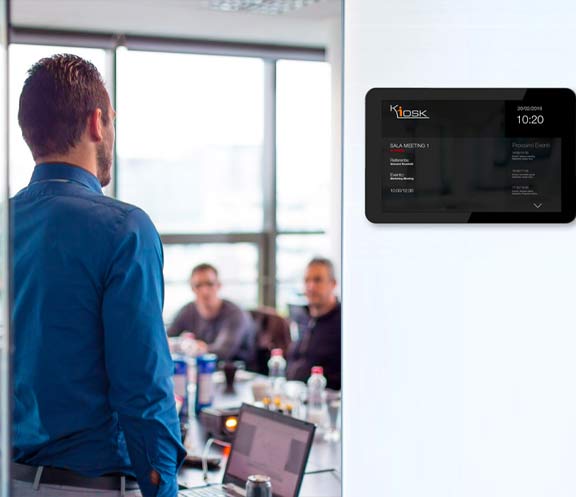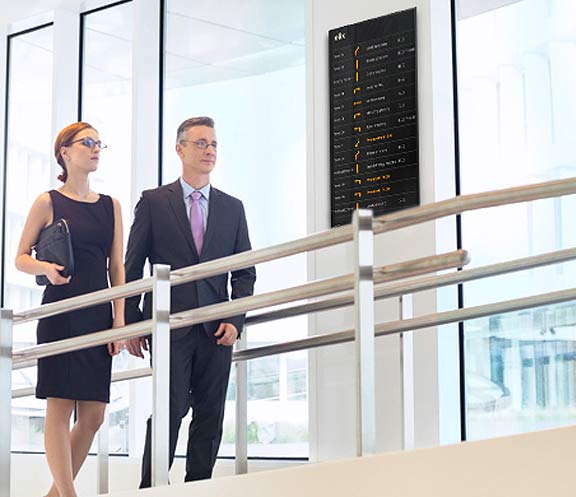 Dynamic directors and directional signage
Kiosk Targa is a perfect wayfinding or directory system, capable of showing on totems and large-format displays the list of meetings on the calendar and the exact location of the rooms to be reached. All automatically.

Kiosk Targa, combined for example with the Kiosk Nice totem, becomes a perfect digital signage system: orientation arrows and updated information on meetings are elements that help the visitor to quickly reach the reserved room, avoiding disorientation and at the same time lifting yours the staff from the interruptions of requests for information.
Digital signage communication on totems and networked displays
Kiosk Targa is a digital signage software, with which you can manage a network of displays for internal video communication: from content programming to its publication.

Thanks to the scheduling functionality and the included editing system, you can schedule different messages for times of day.
In this way, in addition to the meeting room booking messages, you can notify your guests with engagement messages packaged according to the time slot and the passage area.
So, for example, at 18:30 the enabled displays will show the chef's dish in the restaurant or the expected menu, while in the bar area you can show the cocktail of the day.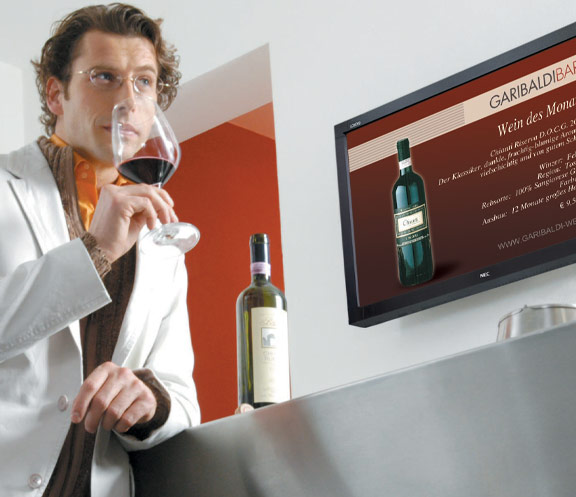 COMPANY
Kiosk Targa's meeting room booking system allows you to easily identify the free meeting room and post the occupancy status of the room on the display.
With Kiosk Targa your booking is protected and is easily manageable by you in case of change in the time of the meeting.
HOTELS AND CONGRESS CENTERS
Kiosk Targa allows you to manage meeting rooms and direct customers to the event hall.
With Kiosk Targa you can create custom layouts for your customers, maximizing the media impact of congresses and conventions.
With Kiosk Targa you can also promote your commercial offer.
A single tool to manage, promote, direct.
EDUCATION
Kiosk Targa allows you to flexibly manage classrooms by directing students and visitors to the correct classroom.
With Kiosk Targa you can program the use of the classrooms and publish on summary displays the indication of the time, the classroom and its speaker, as well as the directions to reach the classroom.
Tre applicazioni in una
Meeting room booking
See in a few moments the occupancy status of the meeting rooms, and book the one that is most convenient for you.

Wayfinding
Your signage totem is automatically updated showing your customer the route to take to reach the meeting room

Digital signage
Communicate entertainment, alert or corporate branding information on outdoor displays or on the digital signage network.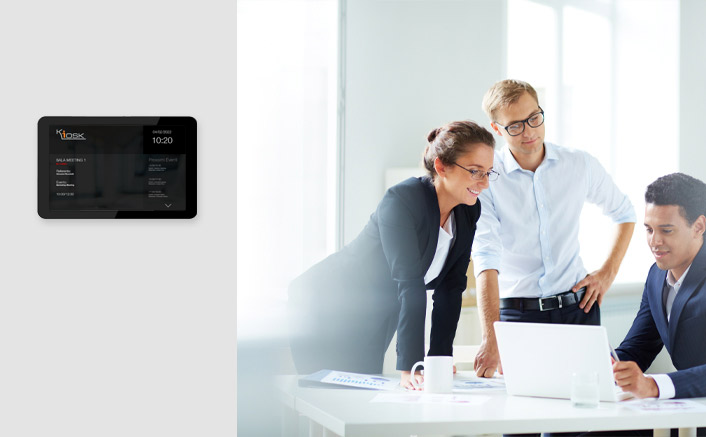 Advantages
Better use of space
Thanks to Kiosk Targa, the management and occupancy of meeting rooms is enormously rationalized, with benefits on costs, booking times and the workflow of employees and staff.
More work efficiency
Finding a free room, booking it and possibly canceling it are quick operations that no longer require a secretary and service personnel. Kiosk Targa elevates efficiency in meeting room booking.
Accessible anywhere and by anyone
The system is not bound to any operating system. It is also not tied to any hardware brand, neither for off-room displays nor for displays with directory function. This allows you to keep costs down and offers greater freedom in the choice of hardware.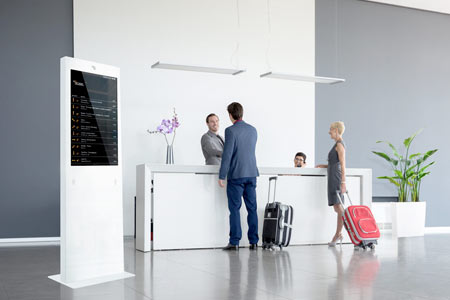 Ideal for
Hotels
Business centers
Congress centers
Auditorium
Hospitals
Airports
Schools and Universities
Companies
Museums
Benefits
Immediate display of occupancy status / room reservation
Easy booking of the free room
Automatic updating of the directory
Elegant and small touch displays with user-friendly interface
Maximizing the use of collaboration spaces and meeting rooms
Always fresh, attractive and real-time communication on the display network
Easy diffusion of press releases on the network of small displays or on signage totems
Clean environments and corridors without warning or signage leaflets
Reduced message update costs
Quick drafting of announcements and daily schedules
Improved addressing experience for the customer
Better corporate image thanks to clear and tidy signage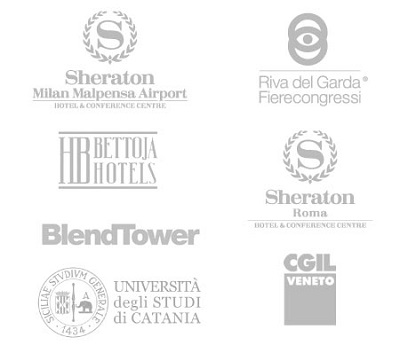 Don't waste time. Fix a call
Discover how Kiosk Targa simplifies the management and booking of meeting rooms, facilitates orientations for guests and visitors, helps you communicate better.

Talk to our product experts: fix a call and discover Kiosk Targa in detail.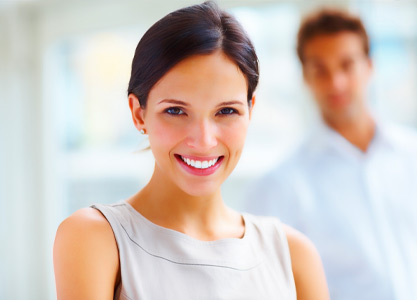 Don't waste time. Fix a call
Discover how Kiosk Targa simplifies the management and booking of meeting rooms, facilitates orientations for guests and visitors, helps you communicate better.

Talk to our product experts: fix a cal and discover Kiosk Targa in detail.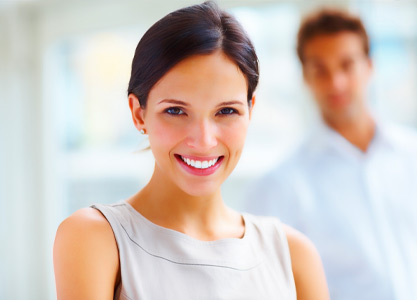 Insights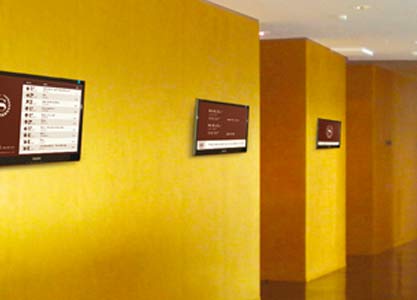 Sheraton Milano Malpensa


Kiosk Targa as room booking, orientation and video communication software in hotels and conference spaces.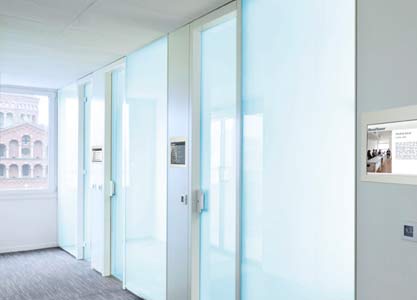 Blend Tower


Kiosk Targa as a room booking and orientation system on digital totems for the workspaces of the Blend Tower in Milan.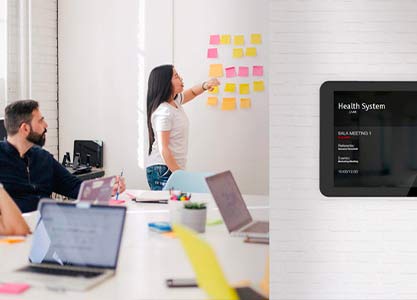 Meeting rooms in modern workspaces


The needs and technologies of smart collaboration require agile systems for managing the booking of new workspaces.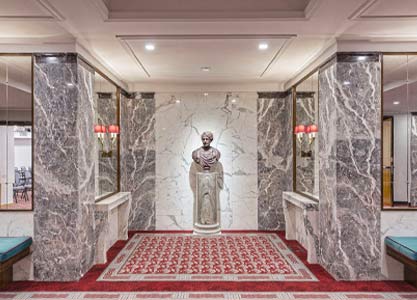 Bettoja Centro Congressi


Kiosk Targa for the elegant and technologically advanced Congress Center in the center of Rome.



Partner with Kiosk
By becoming our partner, you can ensure successful results for your customers.
Benefit from our skills and our marketing tools to give value to your customers and differentiate your business.
Less risk, less cost and a guarantee to deliver the expected business results to your client.
---
© Kiosk, All rights reserved. The use of this website implies the acceptance of the terms of use and the Privacy Policy.
Kiosk - C.so Borsalino 19/A, 15121 Alessandria. Italy - T. 0039.0131.250.313