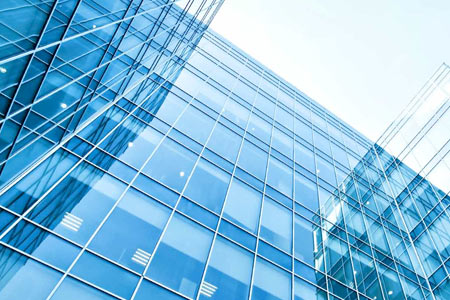 Digital signage for business centers
solutions for clear, usable, distributed communication
Nowadays, providing your employees with a smart and agile working environment has become essential to ride the change.
The current needs of fast and productive collaboration, coworking and smartworking, require solutions that know how to communicate correctly with each other and that allow easy management and use.
Our digital signage solutions for corporate environments facilitate resource management and reduce operating times and costs. Discover our proposals.
Digital wayfinder for an international customer audience
It is a digital signage software that revolutionizes the static concept of signage, proposing a digital, interactive and updated way to consult and search for precise information about the location of offices, catering outlets or utilities by tracing the best route on the screen. for its achievement.

Thanks to the multilingual interface, Kiosk Wayfinder is perfect for business centers and places with high and medium turnout where providing timely and accurate information facilitates and improves the experience.

See more ›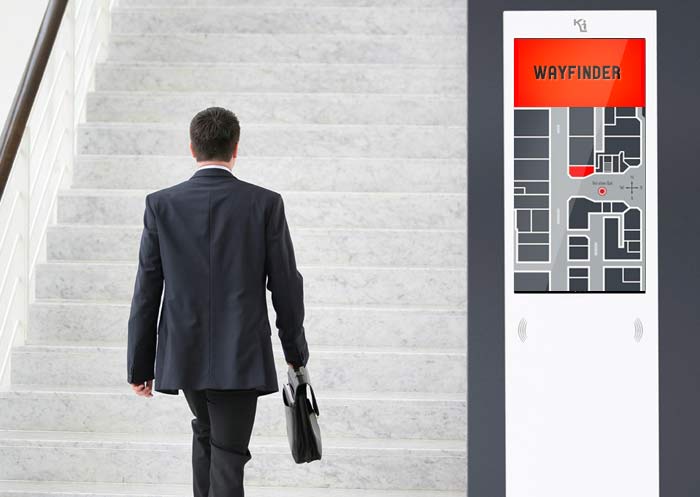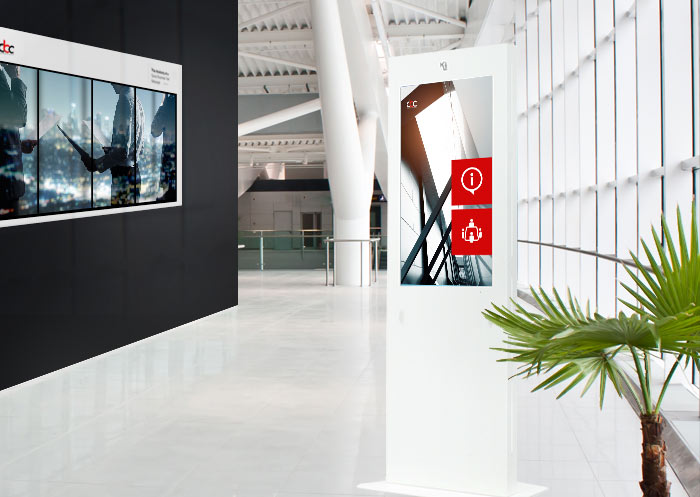 Inform, help, involve with digital infopoints
Information totems to access the various services or useful information in the Business Center.
Ideal for showing content tailored to the public, easily updated, thanks to the digital signage software supplied. The interactivity of the touchscreen totems makes it possible to facilitate users in searching, consulting, couponing and ticketing, thanks to the multilingual interfaces designed by Kiosk.

Available in various display sizes, with or without touchscreen, Kiosk offersindoor kiosks and outdoor kiosks,vandal-proof and safe to ensure continuous and tamper-proof operation.

Digital signage display for distributed information
Kiosk provides large format displays, with or without touchscreen, for wall or ceiling, able to offer at the same time visualization and interactivity to the information or announcements published: advertising, weather news, news and deadlines, warnings and emergency signals (fire , out of service, addressing).

Displays selected for characteristics and application areas, ideal for updated and dynamic communication in any lighting and ambient conditions.

Discover the range of our displays for digital signage ›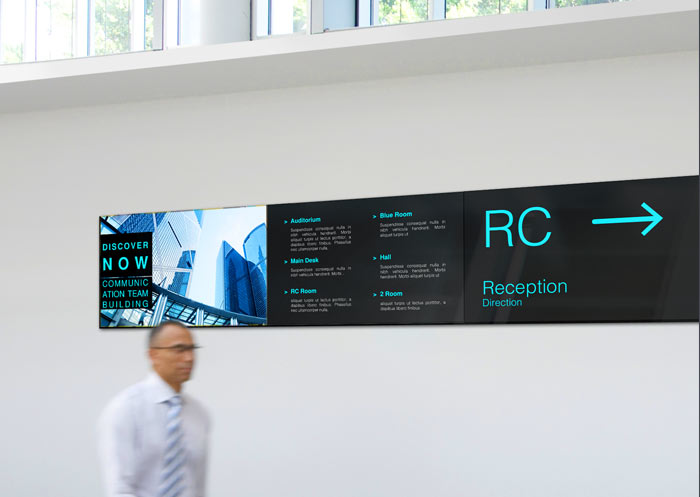 Digital concierge: give assistance with fewer resources
With the Kiosk Hall digital video concierge solution, customers and visitors can be immediately put in contact with the internal organization for assistance or emergency information (health, loss, etc.).
Perfectly integrated multimedia kiosk and software to offer a simple and intuitive user experience.

See more ›
Better welcome experience with digital signage
A functional signage is made up of correct, legible, punctual information. By adopting Kiosk Targa with its digital signage function, information on floors and directions of travel becomes clear for customers and can be easily updated by your operators. A specific application for directional signs, capable of avoiding disorientation for your customers and your visitors, and of greatly facilitating the shopping experience.

Per saperne di più ›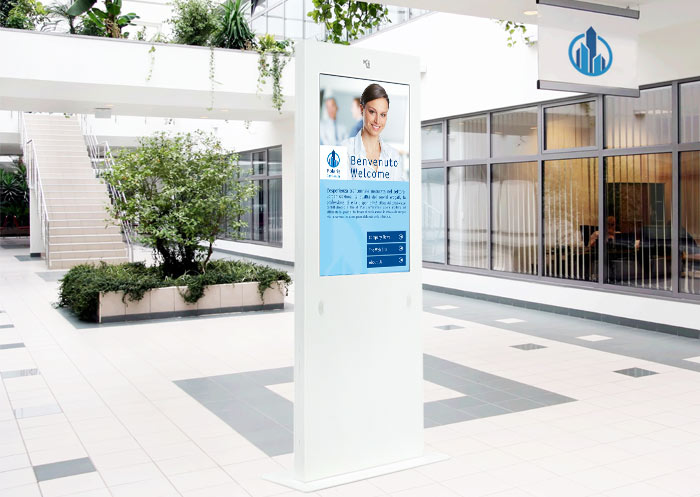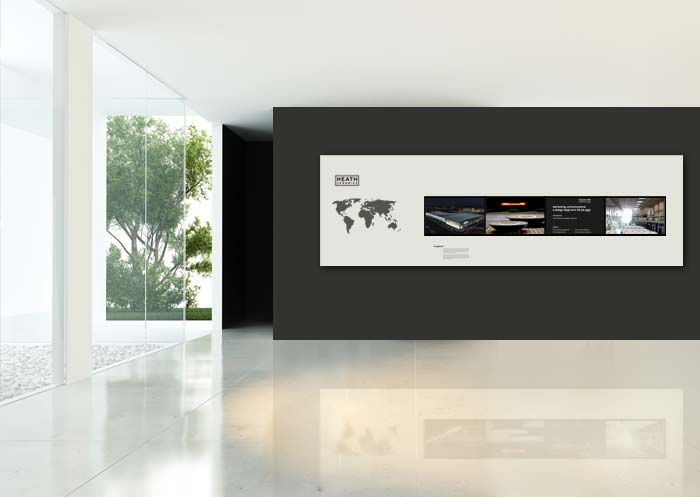 Capture your audience with stunning video walls
Wonderfully bright and super-intelligent, the new video walls are attracting attention like never before.
With extraordinary resolution and sharp contrast, Kiosk's digital signage solutions ensure communication has a high-level visual impact.

See more ›
The right contents by time slot and days
Take advantage of the potential of the Kiosk Targa digital signage software to facilitate orientation for your audience. With Kiosk Targa you can easily update the directors on your network of displays or totems, always ensuring accuracy and efficiency.

Discover Kiosk Targa ›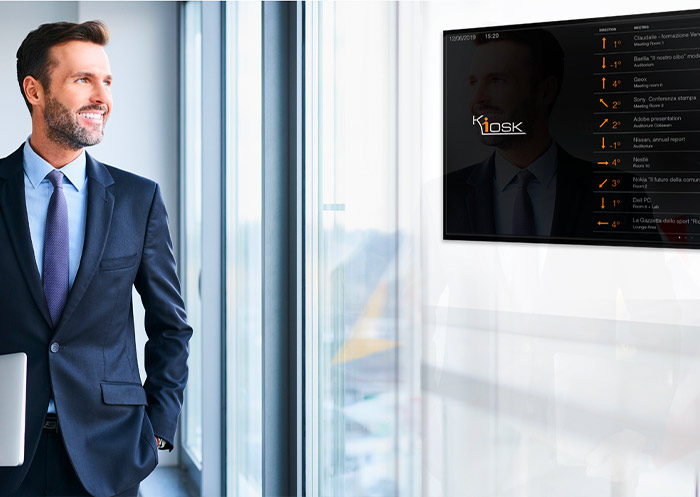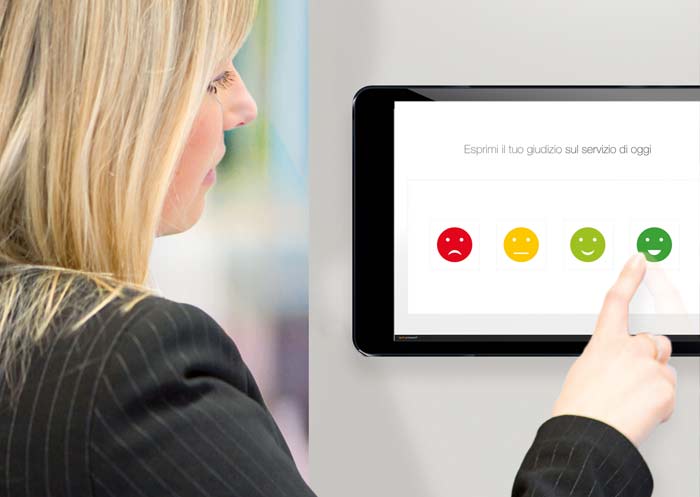 Fulfilled? How did we go?
Collect satisfaction data with our cloud instant survey solution.
Analyze customer satisfaction, parking service or other services on the fly, and immediately apply corrective measures.

See more ›
Talk to our account
With more than 20 years of experience in the supply and customization of kiosks and touch screen totems, Kiosk offers a wide range of products suitable for every project. Furthermore, Kiosk supports you with professional services designed to accelerate your return on investment.

Do not waste time. Our experts and consultants are able to support your company on any omnichannel project using touch screen technology.
Make a call for an exploratory interview and discover our success stories.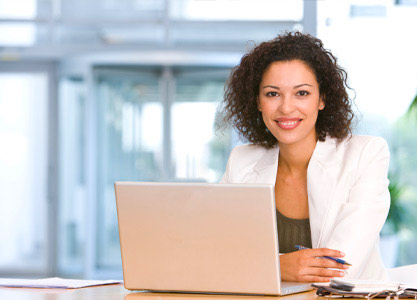 Talk to our account
Our staff are available for all your clarification needs.
Talk to one of our digital signage specialists: set up a call or book a live demo.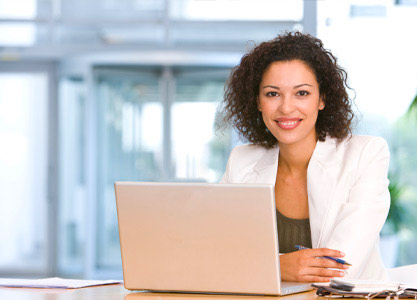 Insights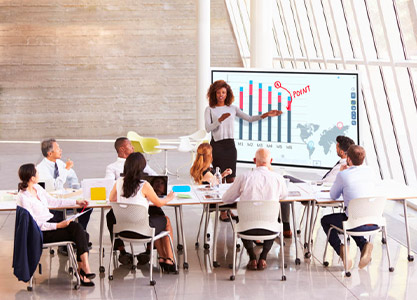 Collaboration systems for meeting rooms


Kiosk offers Ricoh Collaboration Board for meeting rooms. Ask for information.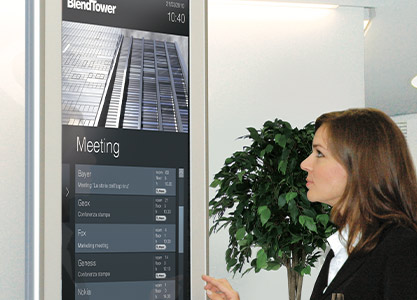 Blend Tower


Kiosk Targa as an orientation system on digital totems for Blend Tower in Milan.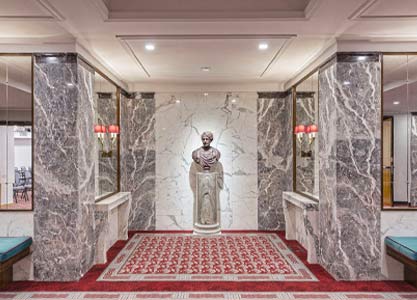 Bettoja Congress Center


Kiosk Targa for the elegant and technologically advanced Congress Center in the center of Rome.



Partner with Kiosk
By becoming our partner, you can ensure successful results for your customers.
Benefit from our skills and our marketing tools to give value to your customers and differentiate your business.
Less risk, less cost and a guarantee to deliver the expected business results to your client.
---
© Kiosk, All rights reserved. The use of this website implies the acceptance of the terms of use and the Privacy Policy.
Kiosk - C.so Borsalino 19/A, 15121 Alessandria. Italy - T. 0039.0131.250.313