Digital signage solutions for the retail market
improve shopping experience, increase sales
For today's retailers, the key word has become integration and omnichannel, that is to make the consumer experience an exhaustive shopping experience within the store, which integrates and coherently continues the experiences made online and in-store.
In practice, the adoption of a marketing strategy that focuses on the customer and provides integrated and personalized experiences on all touch points.

A SalesForce study shows that 79% of customers are willing to gladly share their data and relevant information, in exchange for a personalized interaction that makes them feel the company is attentive to their needs.
The same study also shows that 80% of customers state that the experience lived during the customer journey has the same importance as the products or services that the company offers
Kiosk helps brands to be customer loyal across all channels at all times.

Improve service by reducing waits
An innovative solution able to organize and direct customer service requests to the right service counter, with queue elimination features and advanced quality and booking management tools.

See more on page Kiosk Hydra ›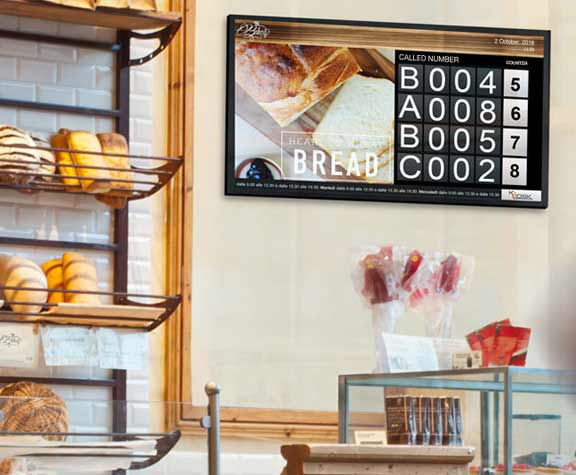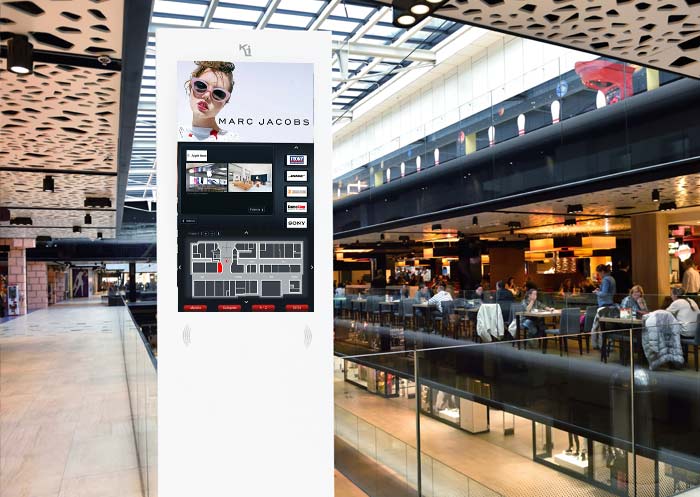 Facilitate reaching routes with the wayfinder
It is a digital signage software that revolutionizes the static concept of signage, proposing a digital, interactive and updated way to consult and search for information on your brand, restaurant or utility points, tracing on video the best path to achieve it.

Perfect for shopping centers and commercial places with high and medium turnout where providing timely and accurate information facilitates and improves the in-store experience.

See more ›
Facilitate orders and reservations with Kiosk Self
Supply of multimedia kiosks and interactive totems for self-service operations.
Sturdy and vandal-proof, Kiosk designs and manufactures multimedia interactive totems ideal for printing, ticketing, ordering, payment and much more. Ideal for restaurants, sporting goods and home improvement stores.

See more ›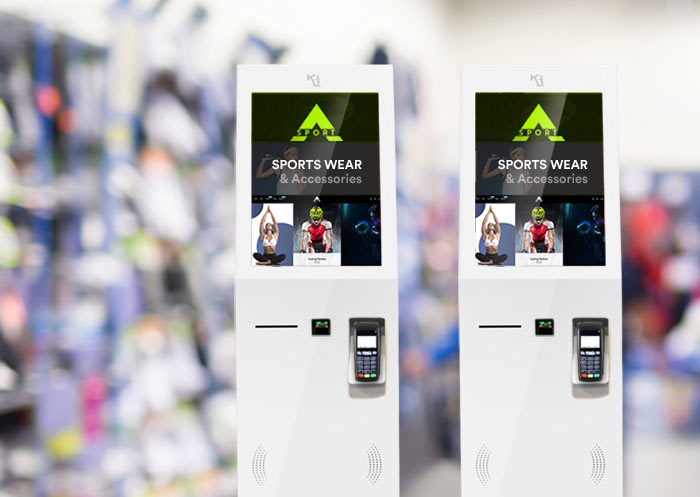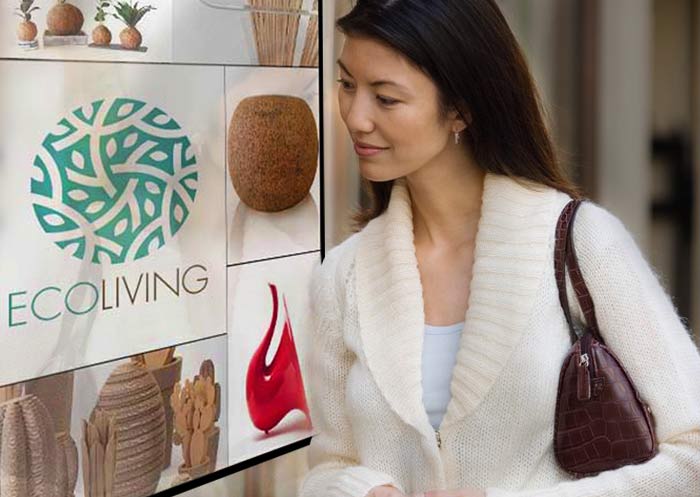 Capture the customer with engaging dynamic content
With Dise, the professional software for digital signage in retail, many brands ensure faithful communication of their brand throughout the network of stores, thanks to the advanced publishing and scheduling management features.
Providing the right content when making decisions is crucial for every brand.

See more ›
Inform and attract with new digital signage displays
Kiosk in partnership with the best manufacturers of digital signage displays, offers the best and most suitable displays to show promotions, incentivize a product or facilitate in-store sales.
Available in portrait or landscape formats, Kiosk supports you in the turnkey design of the best solutions within the budget and the perfect integration between the hardware and software parts that interact.

See more ›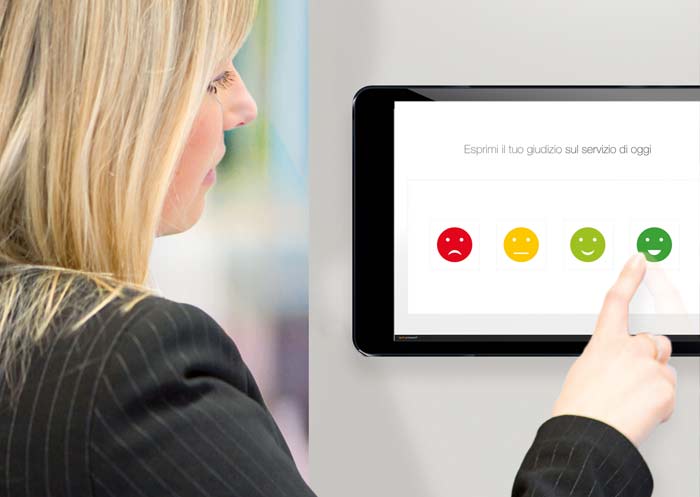 How was your shopping experience with us?
Collect your customers' satisfaction data with our practical instant survey solution.
Analyze on the fly their satisfaction with the service received, or their shopping experience in your store.
Was your customer impressed and satisfied with the courtesy of your staff?
Was your salesperson able to understand their need?
Do not wait for them to go elsewhere without understanding the real reason or to spread a negative opinion about their experience.
Collect their feedback immediately with Kiosk Emoticon, and apply the appropriate corrective measures.

See more ›
Talk to our account
With more than 20 years of experience in the supply and customization of kiosks and touch screen totems, Kiosk offers a wide range of products suitable for every project. Furthermore, Kiosk supports you with professional services designed to accelerate your return on investment.

Do not waste time. Our experts and consultants are able to support your company on any omnichannel project using touch screen technology.
Make a call for an exploratory interview and discover our success stories.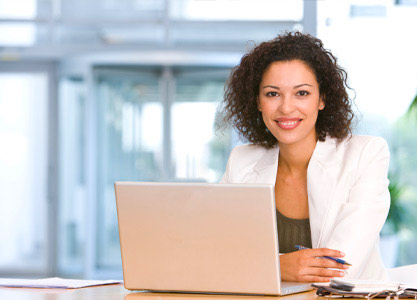 Talk to our account
Our staff are available for all your clarification needs.
Talk to one of our digital signage specialists: fix a call or book a live demo.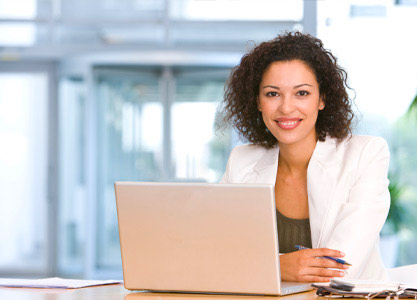 Insights and more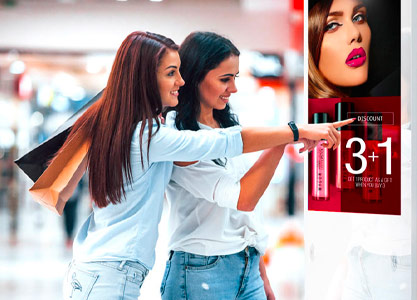 Omnichannel strategies


Discover the applications of multimedia totems for today's omnichannel retail. From digital signage to integrated payment systems: convenient services at any time. Book a call.



Partner with Kiosk
By becoming our partner, you can ensure successful results for your customers.
Benefit from our skills and our marketing tools to give value to your customers and differentiate your business.
Less risk, less cost and a guarantee to deliver the expected business results to your client.
---
© Kiosk, All rights reserved. The use of this website implies the acceptance of the terms of use and the Privacy Policy.
Kiosk - C.so Borsalino 19/A, 15121 Alessandria. Italy - T. 0039.0131.250.313