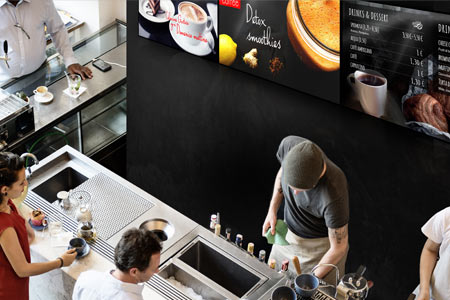 Digital signage solutions for restaurants, fast food restaurants, pizzerias, canteens, cafes
dynamic ads and digital menus that increase sales
From restaurants to fast fodds, from restaurants to cafes & nbsp; to movie theaters, companies are adopting digital displays and totems as an easy, low-cost way to keep their menus up-to-date.
The latest solutions do more than just keep menus up-to-date - they deliver eye-catching promotional and entertainment messages, with the documented result increasing sales and increasing brand strength.

Kiosk helps restaurants, canteens and fast food restaurants to take advantage of new digital tools to increase business and improve the customer experience.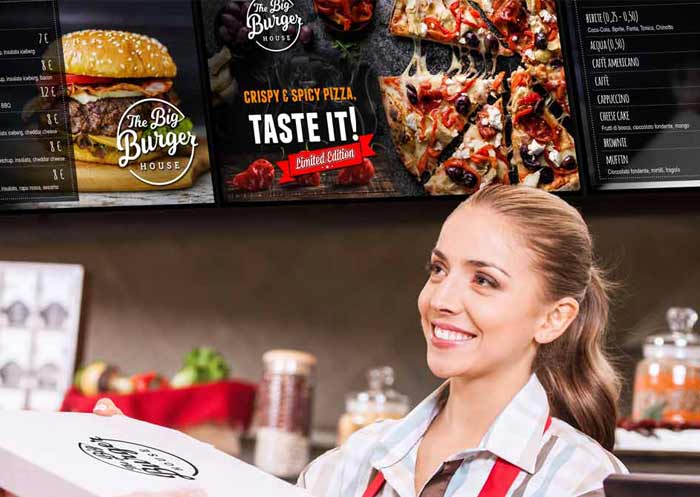 Increase your orders with dynamic menus on the display
The success of digital menus on large format displays or Digital Menus is essentially due to the benefits it brings in terms of increased sales. In fact, it has been shown that a better visual impact and a clearer and more captivating message correspond to a greater propensity to order.

Providing the right content at the time of decision making is essential for every restaurant, and Kiosk Menu Board makes this task easier for you, increasing orders and improving the customer experience.

See more ›
Make ordering easier with the new catering displays
Kiosk in partnership with the best manufacturers of displays for digital signage, offers the best and most suitable displays for restaurants and fast food restaurants, cafes.
Available in portrait or landscape formats, Kiosk supports you in the realization of the best project, finding the right balance between budget and reliability, ensuring perfect integration between the hardware and software parts for a high return on investment.

See more ›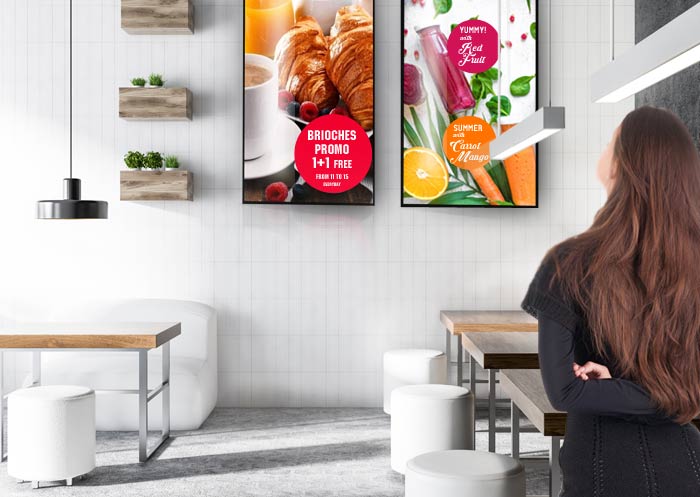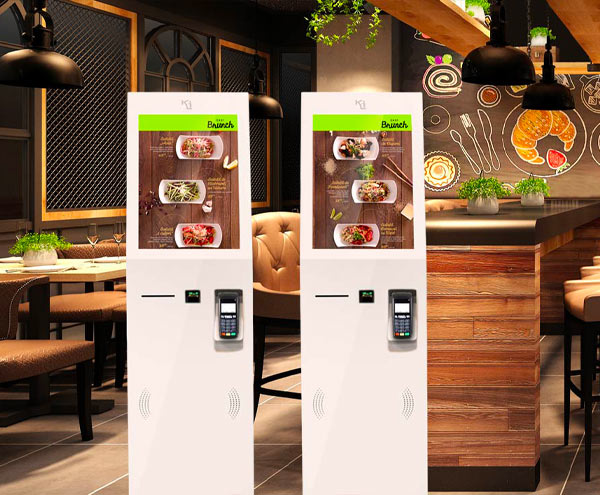 Take advantage of self-service ordering
Kiosk Easy is the interactive touch screen totem designed specifically for the catering sector and for those contexts of smart order and smart delivery.

Its minimalist design, the slim silhouette and the stability typical of Kiosk products make it perfect for places where the catchment area is attentive to the design and style of the environment. Kiosk Easy is a space-saving floor totem, equipped with the latest generation PC inside and peripherals suitable for commercial transactions and couponing: payment pos, integrated bar code scanner, thermal fiscal printer for ticketing. Its characteristics make it suitable for the catering and HORECA sector.

See more ›
Are you satisfied with our services? How did we go?
Collect customer satisfaction data with our handy cloud instant survey solution.
Analyze on the fly the satisfaction of your customers on the service, the quality of the food, the price or the cleanliness and immediately apply the corrective measures. A really convenient solution with great advantages, thanks to the instant notification panel and statistics for analysis.
Don't wait for them to complain or go elsewhere.
Get to know them thoroughly with Kiosk Emoticon and intervene promptly and accurately.

See more ›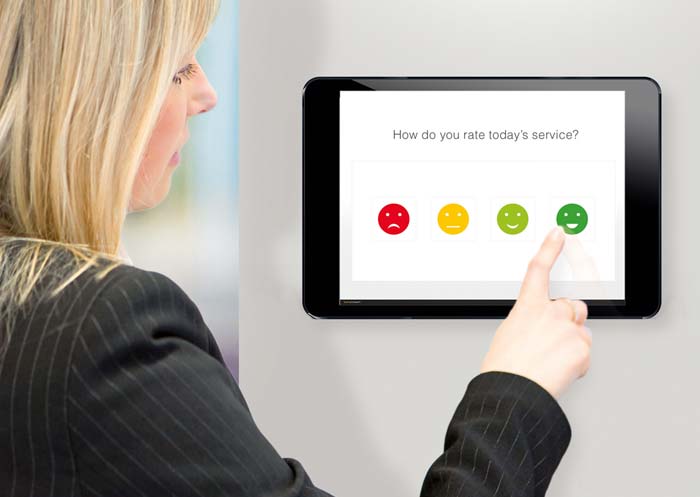 Talk to our account
With more than 20 years of experience in the supply and customization of kiosks and touch screen totems, Kiosk offers a wide range of products suitable for every project. Furthermore, Kiosk supports you with professional services designed to accelerate your return on investment.

Do not waste time. Our experts and consultants are able to support your company on any omnichannel project using touch screen technology.
Fix a call for an exploratory interview and discover our success stories.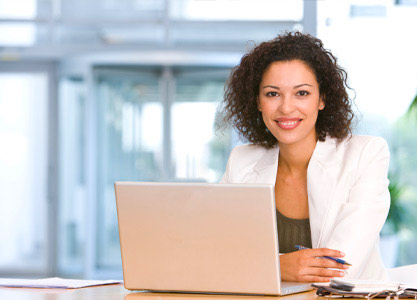 Talk to our account
Our staff are available for all your clarification needs.
Talk to one of our digital signage specialists: fix a call or book a live demo.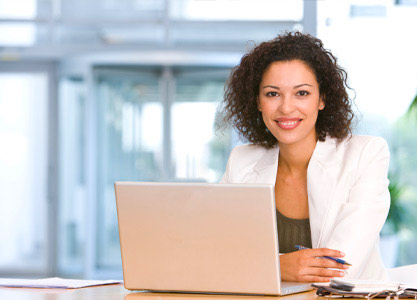 Insights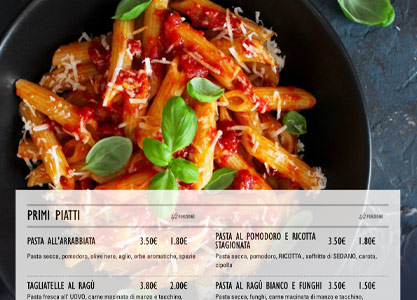 Principi


The Principi Restaurant has chosen the Kiosk solution to show menu dishes on digital signage displays.



Partner with Kiosk
By becoming our partner, you can ensure successful results for your customers.
Benefit from our skills and our marketing tools to give value to your customers and differentiate your business.
Less risk, less cost and a guarantee to deliver the expected business results to your client.
---
© Kiosk, All rights reserved. The use of this website implies the acceptance of the terms of use and the Privacy Policy.
Kiosk - C.so Borsalino 19/A, 15121 Alessandria. Italy - T. 0039.0131.250.313