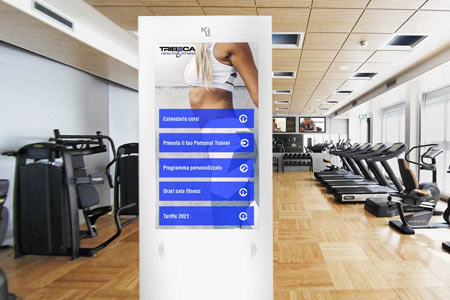 Digital signage solutions
for gyms and fitness centers
Remaining visible to the most demanding customers and adding value to your fitness and health offer requires a correct balance between digital technologies and communication.
A reasoned communication strategy that is aware of the new mentality of consumers and is capable of giving value to the experience of its customers both inside and outside the structure.
Digital signage technology and gym apps can help make a difference and get you started again.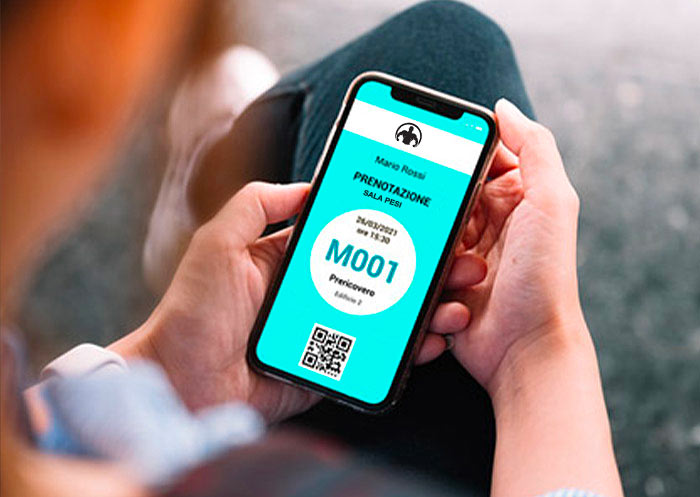 Facilitate bookings for gym entrances
Facilitate entry shifts with our online booking platform.
Ideal for gyms Kiosk Buk saves time for your customers, allowing them to book entry according to the allowed time steps, avoiding unnecessary queues and preserving social distancing.
Easy, comfortable, economical.

See more ›
Totems and multimedia kiosks for self-service operations
Robust and reliable multimedia kiosks, equipped to perform registration operations or print forms and certificates.
Kiosk produces and sells a wide range of totems and multimedia kiosks that can be accessorized with peripherals to meet every need of your gym: booking courses, access to targeted materials and tutorials, tips and entertainment news.
The important thing is to define well the customer experience that you intend to improve.

See more ›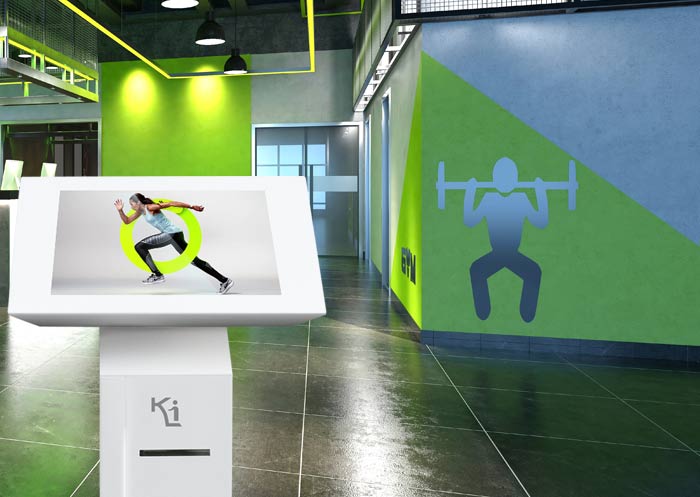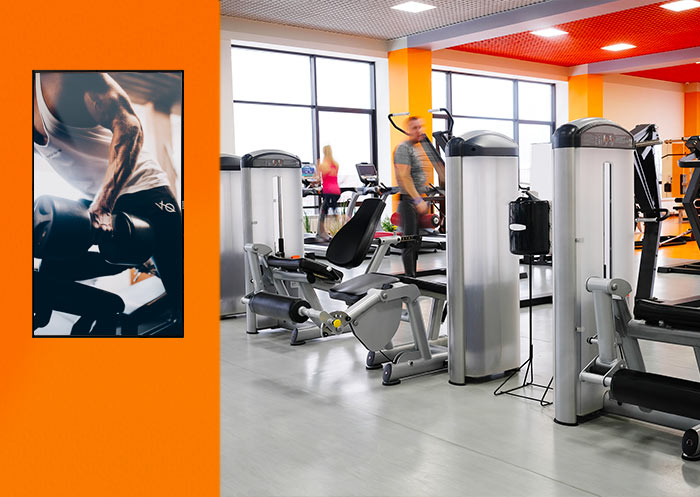 Communicate with ease in an engaging way
Lessons calendar, timetables, promotions, live training, renewed product offers, fitness tips.
This and much more can be communicated on your displays in the gym with Dise software, the digital signage software that allows you to easily create and update the contents published on your gym displays.

No keys or such inconveniences. Content created and published easily on the cloud, scheduled to be shown on your displays automatically according to the day or time or physical location.

See more ›
Digital signage display to inform and motivate
Exercise is one of the things that require a lot of motivation.
Digital signage screens are very useful in this area, because they not only inform the customer about courses and promotions, but are capable of conveying emotions, support physical exercise and motivate customers to be regular.
Kiosk can help you select the right product to excite, motivate and inform, in single or videowall, ceiling or wall configuration, also suitable for 24/7 use, even in difficult lighting conditions.

See more ›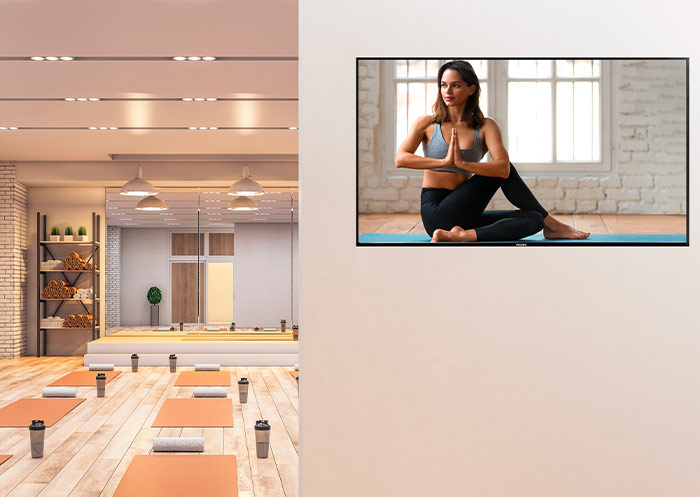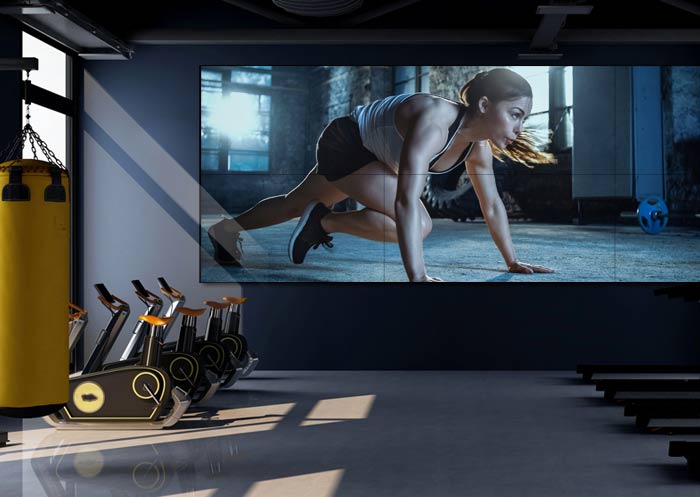 Videowall for maximum engagement
With the videowall walls achievable today, composed of displays of various sizes and brands, from thin frames to the most invisible ones, it is possible to give your customers an immersive experience even more engaging and motivating, transmitting the right emotions capable of supporting the effort and with it the obtaining of the results.

Not simple displays, but professional displays that ensure high operating standards, perfect image viewing and less maintenance.

Discover our videowall proposal ›
How do you rate the service today?
Collect your customers' satisfaction data with our practical instant survey solution.
Analyze on the fly their satisfaction with the changing room or bathroom cleaning service and immediately apply the corrective measures.
A really convenient solution with great advantages, thanks to the instant notification panel and statistics for analysis.
Don't wait for them to complain or change gym.
Get to know them thoroughly with Kiosk Emoticon and intervene promptly and accurately.

See more ›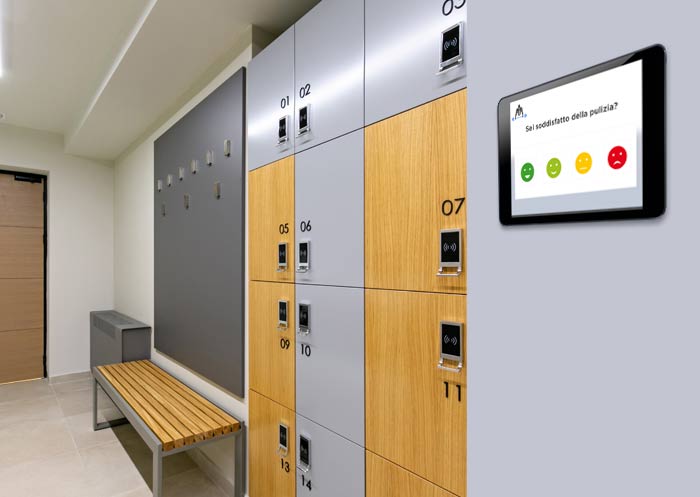 Talk to our account
With more than 20 years of experience in the supply and customization of kiosks and touch screen totems, Kiosk offers a wide range of products suitable for every project. Furthermore, Kiosk supports you with professional services designed to accelerate your return on investment.

Do not waste time. Our experts and consultants are able to support your company on any omnichannel project using touch screen technology.
Make a call for an exploratory interview and discover our success stories.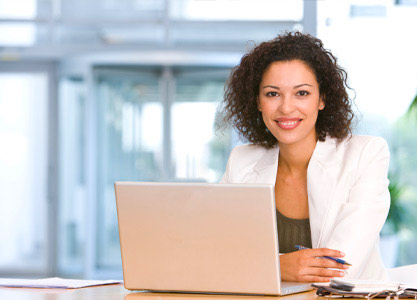 Talk to our account
Our staff are available for all your clarification needs.
Talk to one of our digital signage specialists: fix a call or book a live demo.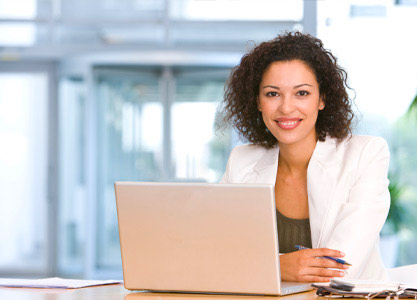 Partner with Kiosk
By becoming our partner, you can ensure successful results for your customers.
Benefit from our skills and our marketing tools to give value to your customers and differentiate your business.
Less risk, less cost and a guarantee to deliver the expected business results to your client.
---
© Kiosk, All rights reserved. The use of this website implies the acceptance of the terms of use and the Privacy Policy.
Kiosk - C.so Borsalino 19/A, 15121 Alessandria. Italy - T. 0039.0131.250.313