Site Kiosk
The software for the vandal-proof protection of public touch screen totems
SiteKiosk is the most widespread and used software for the protection of multimedia totems and public workstations in the world
Notoriously used as an Internet Browser for kiosks and multimedia totems, SiteKiosk is a powerful and robust anti-vandal software for info-totems that display content of public utility or public use via the Internet
With SiteKiosk your public totem and your investment are safe.

How to protect the infopoint totems from cyber attacks and inappropriate content?
A public location must ensure easy operation, but also ensure vandal-proof protection of the operating system, the device in use, the open application and the content displayed.
In fact, the act of vandalism is often associated with physical damage to the equipment. However, much more frequently we see software vandalism, ie the manipulation of the operating system, of some critical files and folders, which cause the terminal to malfunction.
In other cases, and the news in the newspapers give voice to it, we instead witness the violation of totems for an illicit publication of improper contents such as videopornography or terrorist propaganda contents.
The results of these vandalism can range from loss of income, damage to the company's reputation and ultimately to administrative repair costs. Even in these cases, prevention is cheaper than cure. Since these are public stations or Internet Cafes, at this point it becomes essential to equip them with software capable of ensuring the functioning and protection of the system 24/7.
SiteKiosk adequately responds to the following security issues:
View and protect the operating system from vandalism and manipulation (hacking)
Protects system drivers, folders and files from unauthorized access
Protects the terminal from the most common viruses, trojans and destructive scripts
Allows access to specifically authorized programs and applications
Restrict or prohibit downloading files from the Internet
Allows administrators to define which domains / URLs the user is allowed and prohibits undesirable ones
Automatically processes the restart of the program in case of software error
Clears user data at the end of each session
Automatically Logs out after a long period of inactivity
Closes any open windows and schedules at the end of each session
Perform automatic software update
Allows setting or scheduling of restart and shutdown dates and times
Keeps track of user interactions in Log files
Typical usage contexts
SiteKiosk is ideal for use in:
Totems, multimedia kiosks and self-service stations
Internet café
Schools, Universities, Libraries
Info point of the city
Corporate access to Intranet areas
Libraries
Play stations
Fair events with PC on display
Public Internet Banking Stations
Ticket dispensing machines
Digital Signage
Software features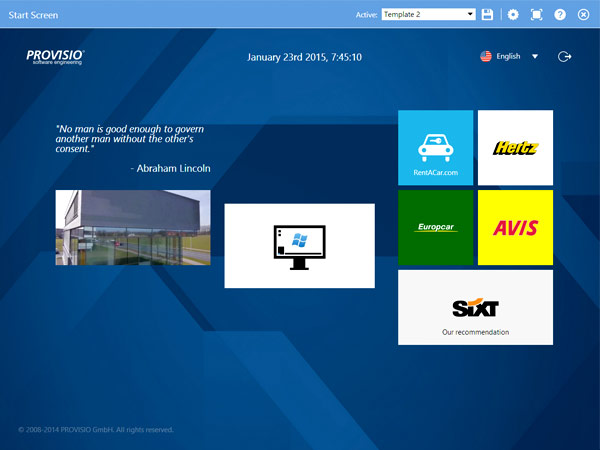 Start screen generator
Thanks to the new Start-Screen template and the new WYSIWYG editor you can design your Start Screens with a simple drag & drop.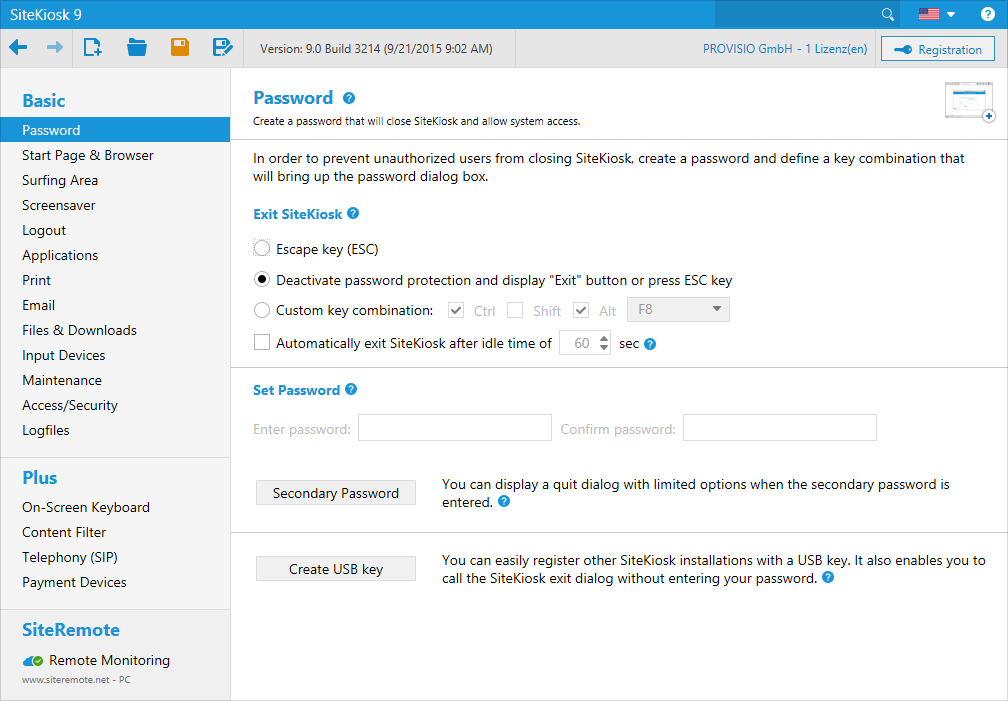 Configuratoion Tool
SiteKiosk's configuration tool guides you through each step of the configuration. You don't need to be a programmer to configure it.
Chrome engine support
In addition to Internet Explorer, SiteKiosk 9 supports the Google Chrome browser engine. This feature allows SiteKiosk to adapt to upcoming changes in browsing technology as Microsoft announced it is phasing out Internet Explorer.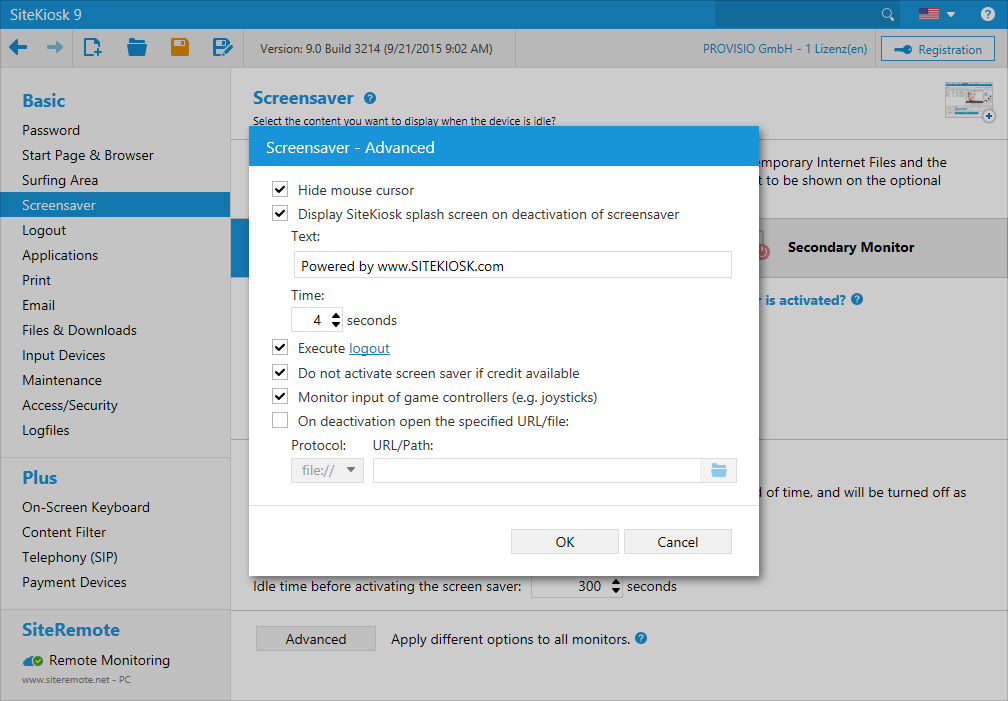 Session reset after a period of inactivity.
With this setting, the session will be automatically terminated after a specified time of inactivity. The Browser and applications will be closed and the tracks deleted. At the end of the operation Sitekiosk will return to the Start page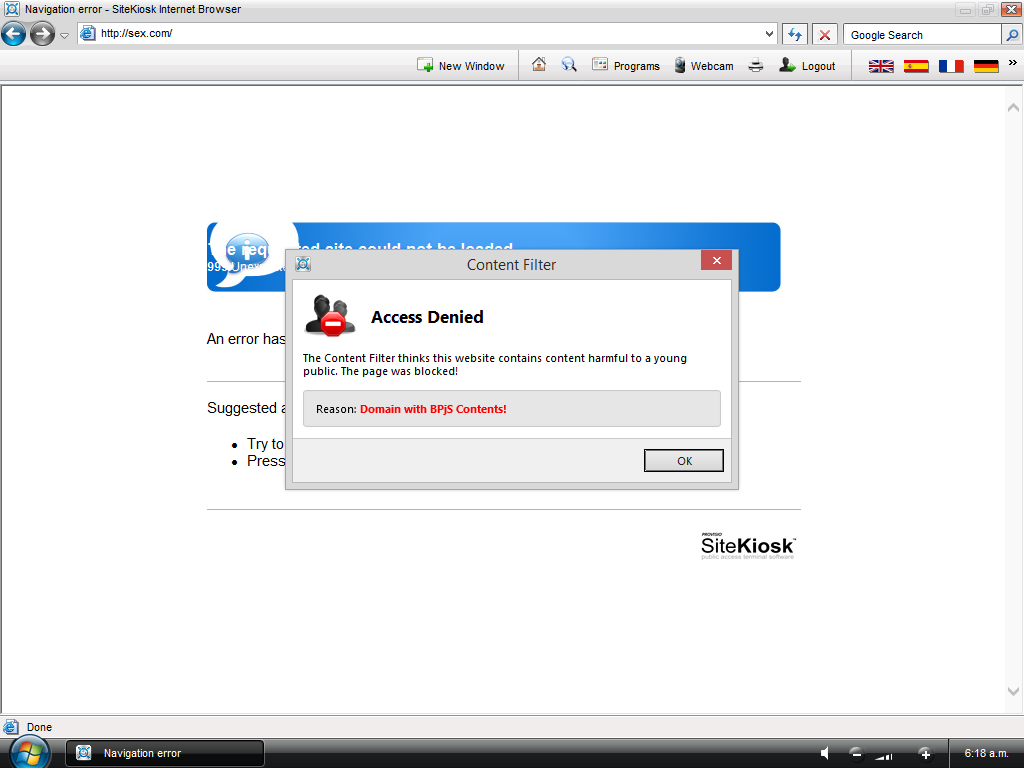 Session reset after a period of inactivity.
The Internet Content filter identifies in real time the sites that may contain inappropriate content and blocks them accordingly.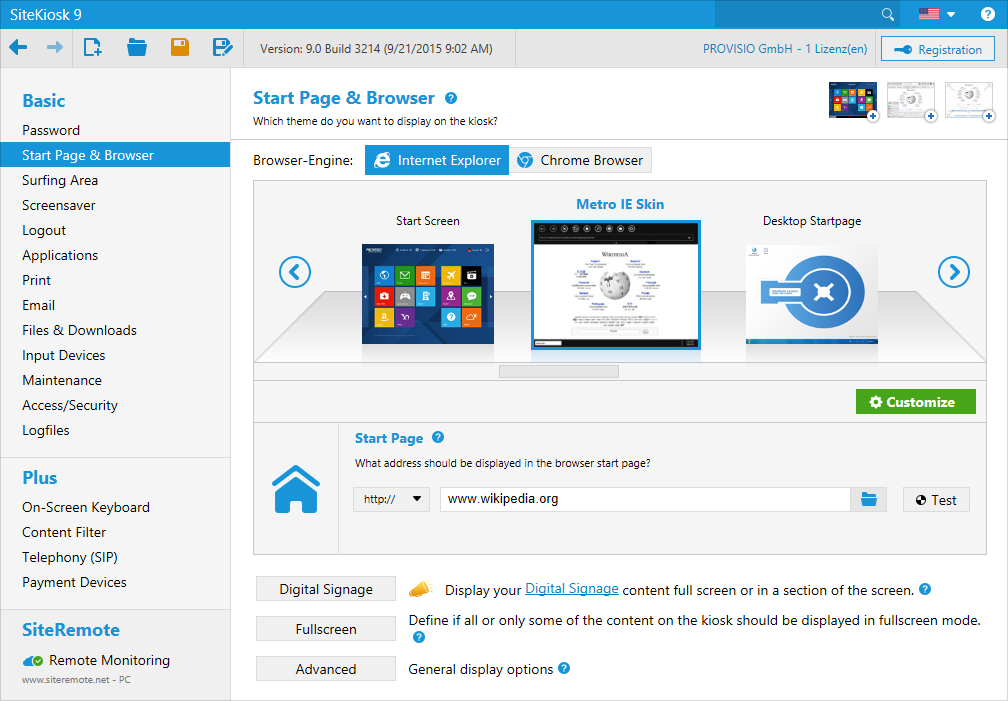 Customizable user interface
You can customize the user interface as you like to better suit your needs, thanks to open source technology.
Restricted navigation area
Through the navigation area, it is possible to define which URLs to allow access. It is possible, for example, to restrict users' access to organization sites only.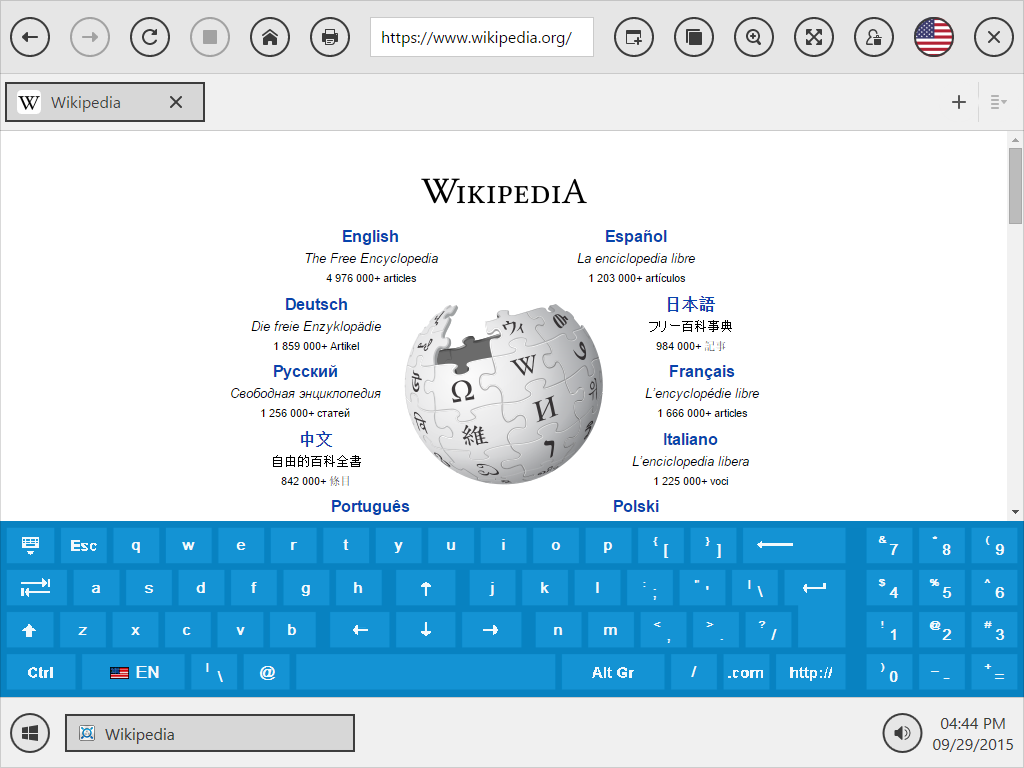 On-screen pop-up keyboards
SiteKiosk provides a great selection of onscreen keyboards, which can be shown or hidden at certain addresses or when text input is required.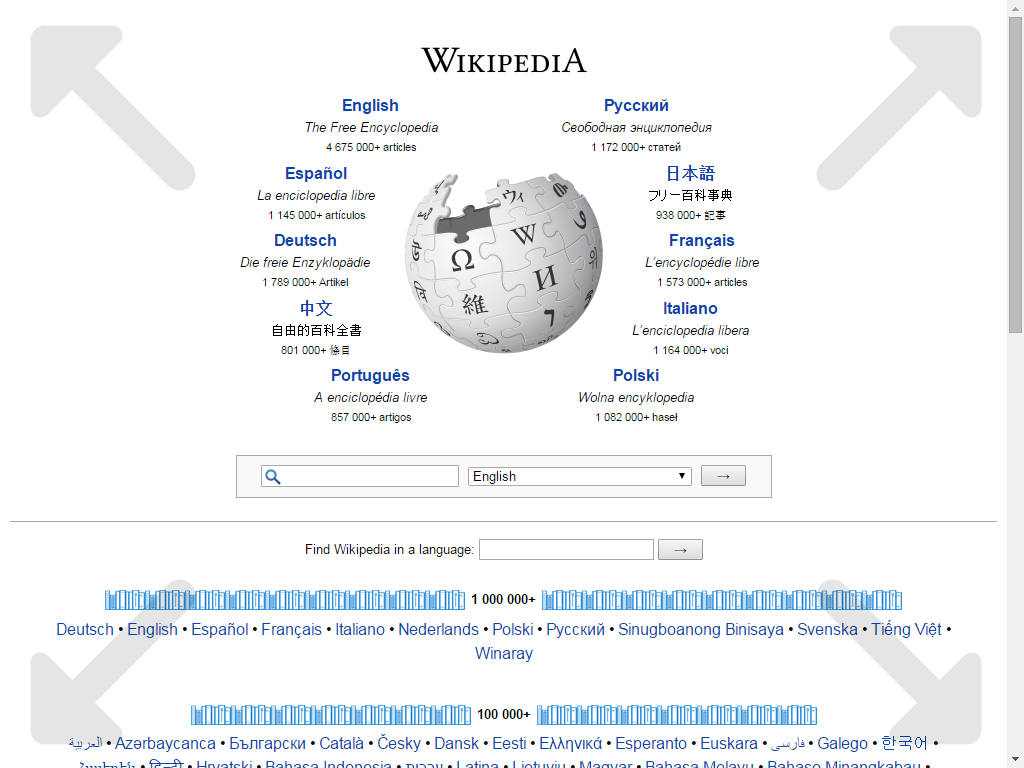 On-screen pop-up keyboards
With fullscreen mode, you can show all or only selected URLs.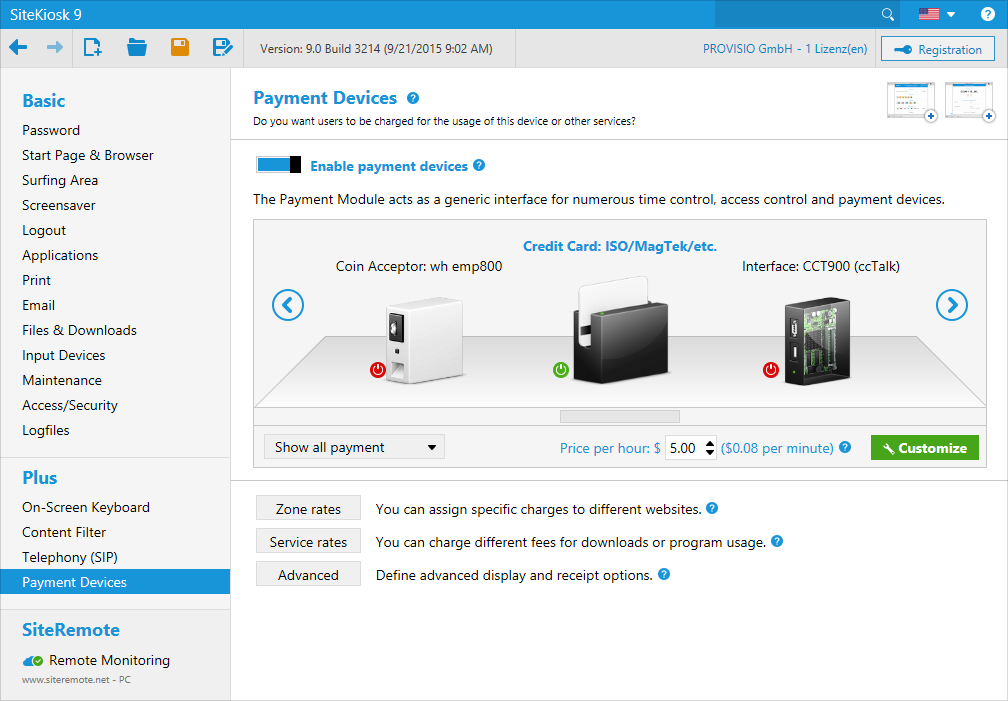 Payment Devices
SiteKiosk allows payment for the use of the kiosk or PC. SiteKiosk supports a wide variety of coin acceptors, credit card readers, and payment gateways.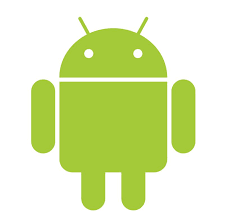 Payment Devices
All the main features of SiteKiosk to protect your tablets: configuration tool optimized for the touchscreen, choice of browsable websites, Internet Content Filter, automatic system reset and logout, screensaver mode when the device it is in stand-by, customizable user interface, fullscreen mode, log files archiving.
OPTIONAL FEATURES WITH REMOTE SITE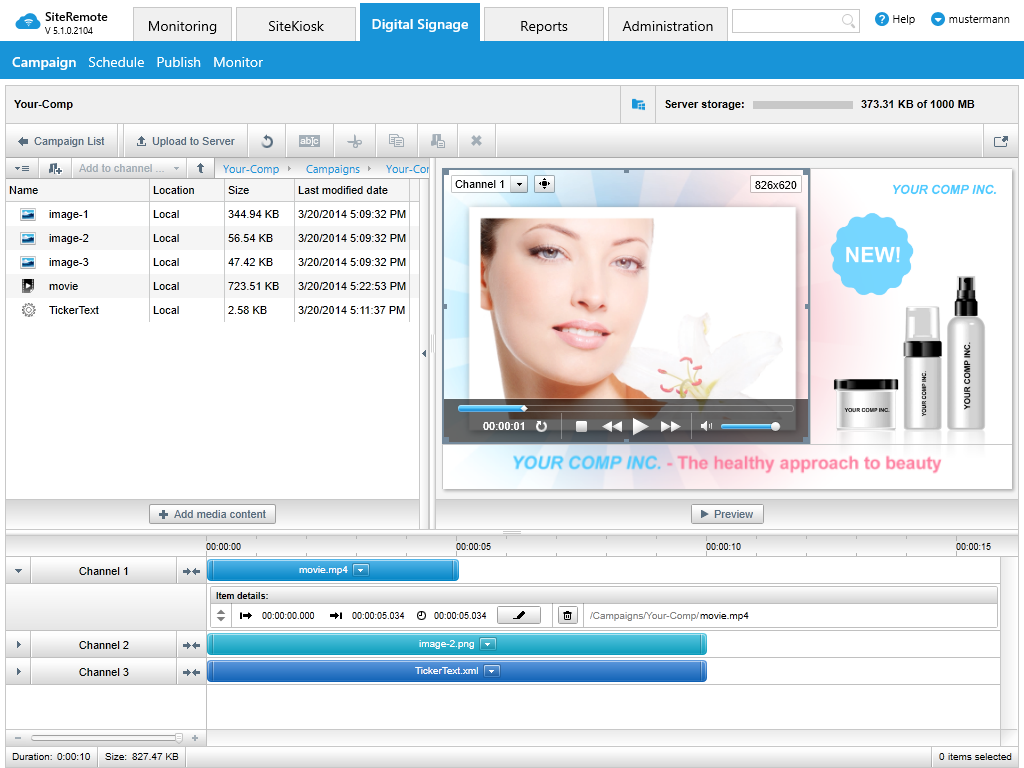 Digital signage functionality
With SiteRemote, you can distribute multimedia content from the server to computers running SiteKiosk. The content can be viewed during idle time as a screen saver or in split screen view mode with SiteKiosk.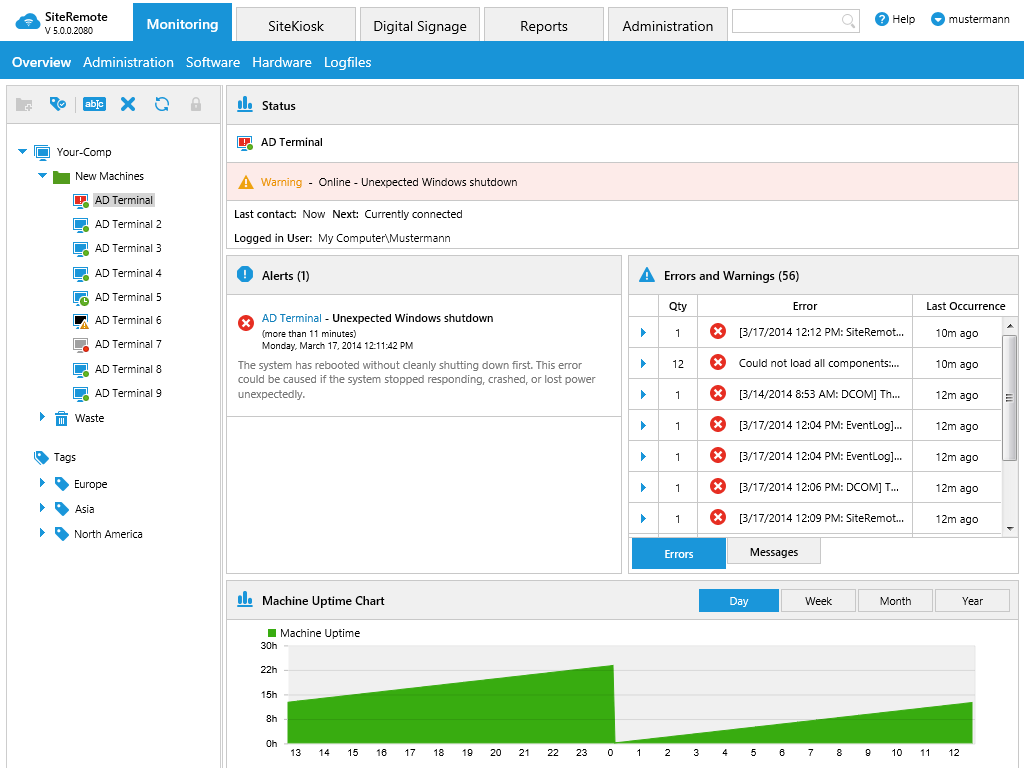 Remote Maintenance
You can use the optional SiteRemote remote management tool to remotely monitor, manage and control online kiosk computers. There are additional costs for using SiteRemote.
Available in 3 versions for Windows: Basic, Plus, Non Profit
The Basic version includes all the basic functions: customization skin, customizable interface, start page template, URL access restriction, execution of specified programs, printing, managing access to folders and files.

The Plus version has all the standard features present in the Basic version, plus it contains touchscreen support with on-screen keyboard, video and photo e-mail functionality, internet content filter and supports Voip devices, support payment devices.

The Pay version, on the other hand, represents the complete set of SiteKiosk and allows you to manage and charge the service offered through terminals or public workstations (for example Internet access after paying, with any form of payment: in currency, card, smart card or credit card).

The SiteKiosk Android version is available for Android 4.x-5.x tablets.
More information? Call us at 0131.250.313
System Requirements
Supported Operating Systems:
Windows 10 32 / 64bit
Windows 8.x 32 / 64bit
Windows 7 32 / 64bit
Embedded POSReady 7
Embedded Standard 7
Windows Embedded 8 Industry

Browser:
Internet Explorer 10 or higher
Now it also supports Chrome

Processor:
Intel or AMD x86 CPU at > 1 GHz (2.0 GHz or more recommended)

Memory:
2 GB RAM (4 GB recommended)

File system:
New Technology File System (NTFS)

Screen Resolution:
1024 x 768 px or higher with 32-bit color depth
Try SiteKiosk free for 30 days
Offer your customers a reliable and safe consultation with Sitekiosk, the most used vandal-proof software on kiosks and public totems.

Don't waste time: set up a call and find out in detail.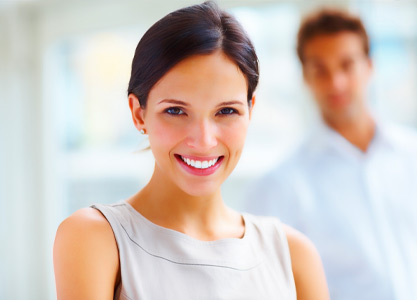 Try SiteKiosk free for 30 days
Offer your customers a reliable and safe consultation with Sitekiosk, the most used vandal-proof software on kiosks and public totems.

Don't waste time: set up a call and find out in detail.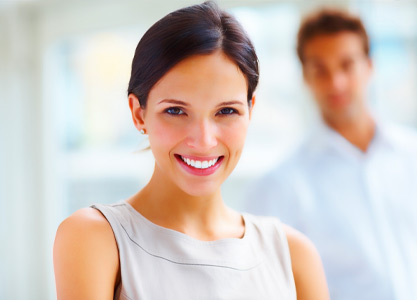 Insights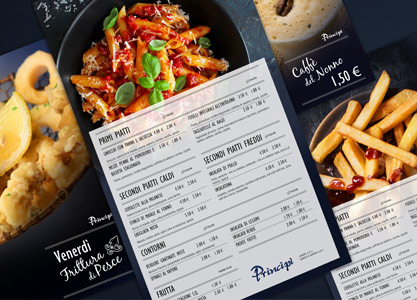 Ristorante Principi


Principi Restaurant has chosen Kiosk Digital Menu Board for his digital signage displays.



Partner with Kiosk
By becoming our partner, you can ensure successful results for your customers.
Benefit from our skills and our marketing tools to give value to your customers and differentiate your business.
Less risk, less cost and a guarantee to deliver the expected business results to your client.
---
© Kiosk, All rights reserved. The use of this website implies the acceptance of the terms of use and the Privacy Policy.
Kiosk - C.so Borsalino 19/A, 15121 Alessandria. Italy - T. 0039.0131.250.313