Despite the proliferation of online sales channels, traditional physical stores continue to be the most effective tools for showing, promoting and explaining the product to the consumer. Loyalty and customer engagement are closely connected and the use of interactive totems plays an important role in this discussion.
The customer engagement activity within a store is essential to involve and keep today's customer, smarter and more informed than in the past, constantly looking for a satisfaction that changes due to the multiplicity of offers and sales channels . Blending the online experience with the offline in-store experience in a seamless and consistent way is vital.
This need to seamlessly combine the experiences offered online with those offline leads numerous shops and flagship stores to use interactive promotional islands, i.e. corners made up of interactive touch screen totems flanked by commercial figures who illustrate and carry out the sales activity.
A strategy which, in addition to promoting and illustrating the product available in store or online, demonstrates the continuity and closeness that the brand intends to ensure to the customer, involving them in a new way in a series of unique and personalized experiences, capable of retaining and stimulating new experiences of purchase.
At the basis of a customer engagement strategy using interactive totems, we should not overlook the fact that today shops no longer sell only products or services, but are moving towards being suppliers of new and memorable, personalized, fluid and consistent shopping experiences like those offered online.
In this scenario, interactive totems are perfect for concretely enhancing traditional physical sales channels, showing dynamic content and captivating videos capable of stimulating the proof of purchase and with it the sale, also allowing the collection of useful data for marketing activities following.
Easy-to-use commercial tools, able to facilitate the union between physical and digital store and to be at the heart of the omnichannel marketing strategy.
Some recent data
According to the Digital Innovation in Retail Observatory , promoted by the School of Management of the Milan Polytechnic, in 2022 in-store physical trade overcame the suffering experienced in the pandemic and regained its centrality in business development plans, also thanks to the innovation.
"In recent years, retail, especially physical, has experienced moments of great stress. In 2022, the scenario has completely changed: Italians have rediscovered the value of physical experience. We are facing a recovery that of the physical channel requires a revision of the points of sale not only from an infrastructural point of view, but also from a digital point of view."
In fact, the customer experience is simplified and made more aware: digital kiosks , implemented by 28% of top retailers, encourage greater knowledge of the products, while digital signage solutions (23%) activate effective communication with the customer.
Use of interactive totems for promotion and sales activities
An interactive product promotion totem pole, also often referred to as an interactive kiosk , is a type of totem pole designed to promote a product or service to potential customers.
It can be found in a variety of environments, including shopping malls, supermarkets, brand stores, and are generally used to showcase products or services through displays, interactive demonstrations using the built-in touch screen.
Currently, interactive totems are used to promote a wide range of products or services, including retail products, food and beverage products, services and information or entertainment products.
They can show advertising content or offer features through their touch screen display, such as for example allowing the printing of discount coupons , making video presentations on how to use the product or allowing easy redemption of loyalty points .
Placed inside shops, interactive totems are an effective way to attract the attention and involve potential customers, who in self-service mode can find answers or read product details and characteristics, confirm items available online and book delivery in store .
They can also sometimes be used to collect customer feedback and collect data on customer preferences and behaviours.
Advantages of using interactive totems
In response to the current economic situation, we are seeing the implementation of new omnichannel sales models. A changing market, a changing customer and which necessarily implies changes with which retailers innovate: lean approaches are preferred which ensure the flexibility necessary to operate in uncertain conditions such as the current ones.
In the light of recent data, the use of interactive totems positioned inside the store, especially if supported by promoters or trained internal staff, proves to be an effective tool within the sales cycle, both in the product presentation phase , than in the invitation to purchase and in the subsequent conversion or acquisition of the customer.
Last but not least, the fact that it allows the collection of useful data for subsequent marketing activities increases its attention from many retailers.
The reasons for this interest are linked to multiple factors. We explore some of them here.
Greater power of attraction and greater curiosity
The attractive power of bright touch screen displays is far greater than printed media or classic roll-ups, which in many cases require the occupation of larger areas to obtain a similar visual and eye-catching power.
Richer and clearer communication
The content on the display is much richer and more dynamic than the static printed billboard, capable at most of showing a message sized in respect of the physical space available. On an interactive totem, on the other hand, it is possible to provide as much information as is needed to capture and enrich the customer's experience, using the monitor as a digital poster when there are no interventions and touches on the display, and as a touch screen device to show detailed and specific content thanks to the touch sensitive user interface.
Effective and persuasive communication
Thanks to digital and the comfortable touch screen, communication is dynamic and able to show movies and videos suitably designed to involve, inspire, educate and stimulate purchase.
We all know the effectiveness of a good video in building trust and desire to buy.
Up-to-date and plannable communication
Thanks to digital technology and digital signage software, it is possible to define content schedules to be shown based on the days and hours of the week, the store or the geographical location like never before. The cloud technology and the remote accessibility of the interactive totem also allow support and maintenance activities in real time.
Sales and marketing in synergy
The use of interactive totems has proven to be valid in helping the in-store promoter in sales activities, without neglecting couponing and lead acquisition activities. In fact, acquiring interest and translating it into data for marketing now becomes immediate. And marketing has the ability to see the effectiveness of the activity in real time and take additional or corrective measures day by day.
Some examples of customer engagement through interactive totems

The Myfamily case.
With a small investment, a traveling brand awareness project was created throughout Italy, to bring one's message and value proposition in direct contact with potential customers.
The project, which lasted 3 months, made the Myfamily company, specialized in tags, collars and harnesses for pets, the protagonist of communication in the affiliated points of sale, allowing customers to learn more about the novelties and peculiarities of the product and the company to stimulate the purchase of the articles.
All thanks to a series of interactive totems, Kiosk Classic model. Light and easy to manage totems, suitably set up according to the company brand guideline, easily placed and repositioned thanks to their structural lightness, but highly stable and reliable for the expected prolonged and itinerant use.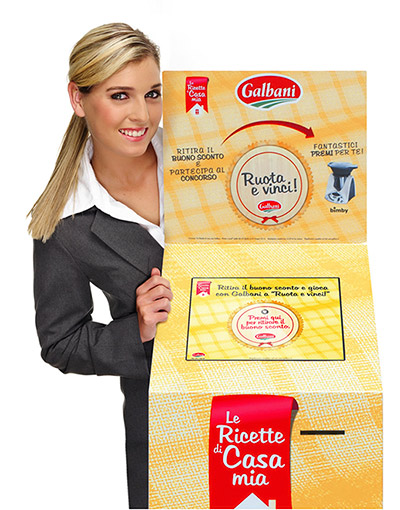 The Galbani case
Supply of interactive totems customized specifically for the Galbani brand, for the promotion of the product and the brand in supermarkets and shopping centers through an interactive game with collection of the discount voucher.
For this gaming-type use, we relied on the Kiosk One model: an interactive totem with a wide viewing angle display, equipped with a thermal printer, of a height suitable for a large audience of users.
A model that is perfectly integrated in the peripherals and in the software, robust and stable, easy to place and transport.
An ideal solution for providing this type of customer engagement and for collecting useful data for marketing.
You can find these and other examples of customer engagement in our gallery of completed projects.
Some advice on the use of interactive totems for engagement activities
Nowadays it is certainly a challenge to propose and attract consumers with something new and continually different, intriguing and significant at the same time.
Being able to arouse emotions and experiences that are always new and possibly differentiating and enhancing the brand, is certainly not trivial.
However, by appropriately using the integration between physical and digital channels, without neglecting the human component, it is possible to create meaningful and memorable moments, capable of encouraging purchases or generating word of mouth.
Among the many elements to take into account, these tips can be valid for many situations:
Pay close attention to the creation of the content. "Homemade" may be fine in some cases, but not for many.
Do not neglect the peculiarities of the point of sale. The solution must be intelligent, not precarious.
Logistics and professional services can make all the difference when it comes to traveling events.
Choose a partner specialized in terms of content and devices, to avoid defects in terms of integration and user experience.
The integration of the user interface and the interactive totem must be well thought out for a heterogeneous and broad audience.
Equip the interactive totem with adequate functioning monitoring software.
Would you like to know more?

Do you need a promotional corner with an interactive totem and a user friendly, reliable and professional interface for your customer engagement and lead acquisition activities?

Talk to our account.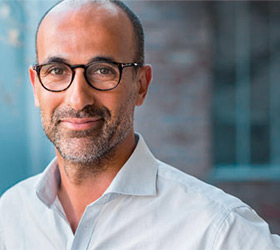 Would you like to know more?
Do you need an interactive corner with multimedia totem and user friendly, reliable and professional interface for your customer engagement campaigns?
Talk to our account.