Store advertising displays have become a must for any retail business, as a tool to gain customer attention and interest especially during traditional "away from home" shopping.
Numerous researches have in fact established that the placement of a display or several monitors close together in a large screen configuration is the most powerful tool to attract and engage customers, inspiring them to enter. The flexibility of store and window display advertising to deliver dynamic, timely and relevant content is unmatched in its effectiveness.
But this is only true if environmental factors and brightness are properly considered and managed.
With outdoor digital advertising solutions, brands can now connect with their target audience, with the right message at the right time. The result is captivating messages that strike and capture the attention of passing consumers.
Why use displays for in-store advertising?
Unlike traditional printed media, advertising displays are dynamic: contents can be changed on the fly, and thanks to network technology, the update is almost instantaneous and synchronized across all displays.
With dynamic advertising, each screen becomes customizable, accountable and attributable, according to a strategy known as "3A": Addressability, Accountability, Attribution.
Addressability , or the ability to activate advertising campaigns aimed at specific consumers
Accountability , or reporting, the measure of advertising effectiveness.
Attribution , or attribution, the ability to measure real business results based on advertising.
Potential of advertising displays in stores
There are three great intrinsic potentials of these media: to attract, inspire and convert.
Attract
Display enticing content to attract more visitors to the store.
DATA: More than 60% of customers make purchasing decisions at the point of sale. 80% of customers choose to enter stores after seeing the digital signage.
Inspire
Give your showcase viewers more reasons to enter.
GIVEN: Digital signage makes an immediate impression on the customer. It has a high impact as 59% of those viewing digital signage content want to know more about the product or topic.
Convert
Increase sales with targeted content in your shop windows that combine online and offline campaigns. Make decisions easier.
DATA: Digital signage increases the average purchase amount by 29.5%.
---
Do you want to create a network of advertising displays in your shop?
---
Advantages of digital advertising with in-store or window display
The latest technologies in digital signage make digital advertising incredibly versatile. Interconnected large format monitors can transmit fascinating videos capable of arousing emotions and interest in the product. The contents can be planned on schedule with digital signage software such as Dise, be uniform and synchronized on the 4k or 8k display network, or diversified by areas within the store or window.
Digital advertising applied in stores offers several advantages:
Access to a large audience
Since consumers spend around 70% of their time away from home, external media plays a vital role in any store's marketing strategy.
More impact targeted ads
Because ads can be updated or changed at any time of the day or week, digital ads can more easily target the right audience, age group or time of day and ensure maximum impact.
Measurement of results and refinement of strategies
When combined with analysis, it is possible to carry out in-depth considerations based on the data, so as to measure the effectiveness of your advertising campaigns and act with new or better initiatives.
Today, in fact, thanks to appropriate sensors and specific software, it is possible to determine how many people have passed in front of the display, how many have seen it and how much time they have spent looking at it.
It becomes possible to collect audience data and consequently evaluate the effectiveness of the advertising communication transmitted, without profiling or tracking users, in compliance with privacy.
What is needed
An internal digital signage network for shops usually includes these devices:
Professional displays for digital signage
Hardware player for driving. Not always necessary, given the existence of monitor models with Android on chip
Digital signage software for content management
Fast internal network with sufficient bandwidth
Let's see them one by one.
Characteristics of advertising monitors for shops
A good installation must contemplate many factors, among these without a doubt the ambient brightness factor. If the display is placed as a showcase, the direct brightness can penalize not only its duration but also the visibility of the contents. In this case it is usually necessary to opt for monitors with at least 2500 – 3000 nits of brightness.
There are numerous brands of advertising monitors, with similar and different features and functions at the same time. Among this, the choice of a high brightness model is certainly the safest. Many often think they can use a common monitor, such as those found in major electronics supermarkets. Unfortunately this is not the case.
The internal characteristics and components are completely different. The brightness of these monitors is normally around 800 nits, which is not enough for shops and are therefore not recommended. In the case of intense daily use, there is a rapid decline in visual quality.
High brightness, high contrast factor, remote control capability, bezel thickness, option slot for integrated monitor control, are important features to look at when selecting the right product. Possibility of advanced settings.
Of course, it is possible to navigate between displays of different technologies, such as LCD, LED, HDR and innovative OLEDs that ensure superior image quality, simple operation, extended integration options.
Player and piloting software
Once the size of the display has been defined, the brightness of the environment and the type of operation and driving have been evaluated, it is necessary to evaluate an adequate content management software – such as Dise – a possible digital signage player to be combined, and the fixing method, if wall or ceiling, vertical or horizontal.
In some applications, displays with SoCs can be used. In other cases, the type and flexibility required require a higher performance external hardware player.
The ease of installation (and possible removal in case of replacement), the technical support and warranty service, which are not all the same between the various vendors, should not be overlooked.
Dise is used by the major world flag-ship stores for the creation of dynamic campaigns on display . Thanks to its flexibility and powerful Dise operation, it is possible to satisfy every particular need for publication and layout, both on single advertising displays and on large video walls (obtained from the close connection of several panels together) even arranged in different shops. A truly performing software, capable of making a difference when it comes to managing different monitors, of different brands or of different characteristics.
Content is King
All good so far, but technology alone is not enough. The importance of the content should not be overlooked, under its various aspects such as, for example, type of format, style, clarity, originality, colors, language, purpose, etc.
Relying on a good content creation agency is certainly necessary.
In summary, where do we start from?
Kiosk carries out the design and supply of advertising displays for shops and shop windows.
The selected line of displays we offer is the result of years of experience and direct relationship with the various brands.
Today it is possible to use thin and energy efficient professional displays, with stunning 4K or 8K HDR picture quality, and with versatile integration options and low cost of use.
Our job is to analyze the environment, with a necessary inspection, and define together with the customer the best product for his advertising project or omnichannel customer experience.
Would you like to know more?

Kiosk can help you create and manage your in-store display network.

Talk to one of our consultants.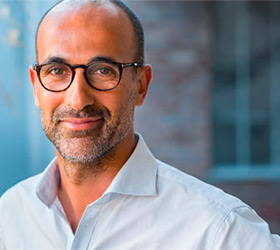 Would you like to know more?
Kiosk can help you create and manage your in-store monitor network.
Talk to one of our consultants.