The new digital signage monitors, which have become elements of the relationship with the consumer, motivate drive to store thanks to their ability to communicate in a dynamic and captivating way.
As Seth Godin , writer and entrepreneur says: "Making products is great, but building relationships is even better."
We obviously agree.
Like you, we see a proliferation of initiatives and ideas every day to win the attention of passersby, act on the drive to store and try to integrate online shopping experiences with those feasible in the physical store. And digital signage monitors play an important role in this phygital context.
The future of retail window advertising is represented by the digital display, simpler and more flexible than the classic paper window posters used to advertise price discounts, special promotions or warehouse clearance.
Every day we see retailers – from department store operators and brands to local small business owners – use in-store digital signage to drive specific goals such as increased foot traffic and sales, improved shopping experience and brand communication. innovative and omnichannel.
And these retailers are also seeing the benefits. Supported by integrated content management systems (CMS) and data analytics platforms, retailers can track the return on investment (ROI) of strategically installed and managed digital signage, with a speed of publication and change of communication campaigns not comparable with the past.
But what lessons can be drawn from their use, as normally visible in the streets of our cities?
Let's see some application examples.
Examples of use of digital signage monitors for drive to store
Digital signage can be a great solution to drive customer traffic to physical stores.
Among the examples that we can cite, we find their use for:
Announce promotions and discounts : Showing special promotions and discounts in real time on digital signage monitors in stores is a classic strategy that works, as it attracts the attention of customers passing by the store, enticing them to enter and buy.
Indicate product availability : digital signage monitors can show in real time which products are available in the store, recalling the product campaign broadcast on online channels and integrating it with the physical point.
Displaying special offers : Displaying special offers on popular products can incentivize customers to visit the physical store to buy those products, instead of making the purchase online.
Displaying customer reviews : Displaying positive customer reviews on digital signage monitors can encourage other customers to visit the physical store and buy.
Offer interactive content : Digital signage monitors can offer interactive content, such as quizzes or games, to engage customers and encourage them to visit the store. In these cases they are monitors also equipped with touch screen glass.
Market data confirms that the use of digital signage monitors can help physical stores attract more customers and increase sales, offering an engaging and personalized shopping experience.
In fact , 80% of customers choose to enter stores after seeing digital signage, and 59% of those who see digital signage content want to learn more about the product or topic.
Sufficient reasons to abandon the traditional printed poster, and adopt the new digital poster, dynamic and easily updated on the net.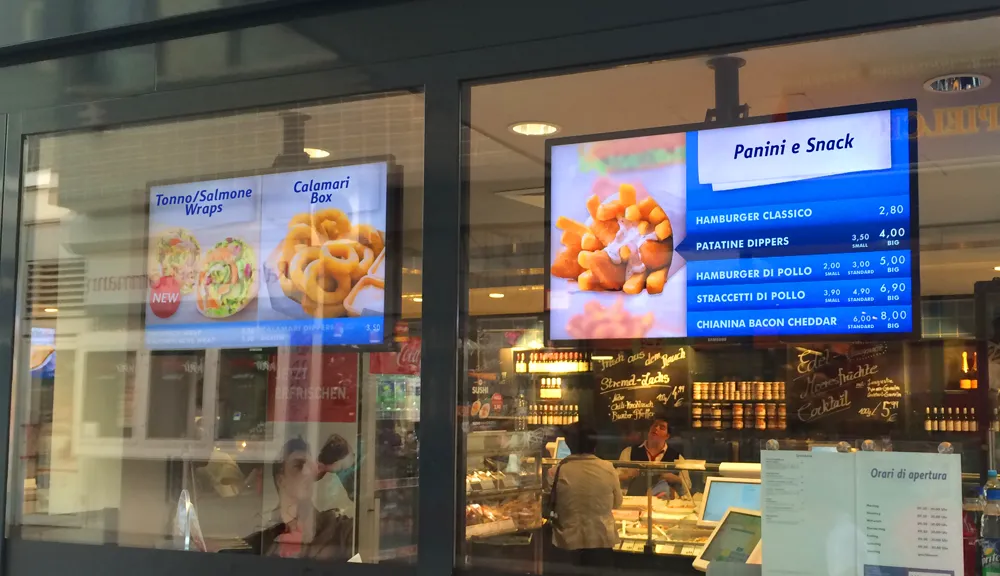 Reasons for adopting monitors in stores
There are many reasons why retailers want to install digital signage monitors in their store. Among these stand out:
Attract customers' attention: Monitors can display digital content such as captivating images and videos that can attract customers' attention and intrigue them, leading them to enter the store.
Promote products: Monitors can be used to showcase product information, promotions and discounts, piquing customer interest and increasing sales.
Create an immersive shopping experience: Monitors can be used to create an immersive and memorable shopping experience, enhancing store image and customer loyalty.
Provide useful information: Monitors can be used to provide useful information to customers, such as opening hours, driving directions, product information, etc.
Enhance Store Atmosphere: Monitors can be used to play music or videos which can enhance the atmosphere of the store, creating a more pleasant environment for customers.
Grow your followers: Showcase your social media accounts, inviting customers to follow them and engage with your brand.
Overall, installing digital signage monitors in a store can improve the customer shopping experience, increase brand visibility and product sales, create a more engaging and modern environment, and provide useful information to customers.
Useful considerations for choosing the right monitor
There are several points to consider when choosing a monitor for digital signage in stores, including:
Size: Choose a suitable size according to the available space in the store and the viewing distance of customers.
Resolution: Higher resolution means sharper images and texts.
Brightness: Choose a monitor with adequate brightness to ensure that content is viewable even in rooms with lots of natural light.
Durability: Choose a monitor with a long lifespan so you don't have to replace it frequently.
Connections: make sure that the monitor has the necessary connections for digital content transmission, such as HDMI or VGA if connected to a hardware player, and an ethernet or wi-fi network connection.
Generally speaking, digital signage monitors in stores are designed for 24/7 operation, with great wear resistance and high reliability.
You can find different brands and models of digital signage monitors digital signage monitor models in the market, based on the specific needs of the store and the available budget.
Kiosk as a digital signage monitor supplier, thanks to partnerships with the best brands, supports you by offering you turnkey solutions to engage customers, with monitors ranging from the Entry Level to the Premium series, so as to satisfy every budget.
Offers studied and personalized from every point of view, accompanied by professional software to program the schedules with extreme simplicity.
Would you like to know more?

Kiosk is able to help you in the digital transformation of your store, recommending the right display for your in-store communication and marketing.

Talk to one of our digital signage experts.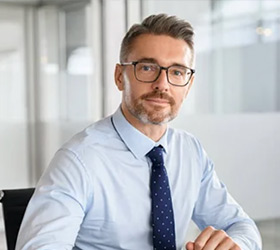 Would you like to know more?
Kiosk is able to help you in the digital transformation of your store, recommending the right display for your in-store communication and marketing.
Talk to one of our digital signage experts.