The definition of omnichannel strategies to combine physical and digital stores today represents the center of the digital transformation of Italian and international retailers.
Especially for retailers with networks, the key word has become integration and omnichannel, that is to make the consumer experience an exhaustive shopping experience within the point of sale, which integrates and coherently continues the experiences made online and those in progress.
In practice, the adoption of a marketing strategy that focuses on the customer and provides integrated and personalized experiences on all touch points.
A SalesForce study shows that 79% of customers are willing to gladly share their data and relevant information, in exchange for a personalized interaction that makes them feel the company is attentive to their needs.
The same study also shows that 80% of customers declare that the experience lived during the customer journey has the same importance as the products or services that the company offers.
These are data that must make us think, if we want to implement an omnichannel marketing strategy.
Thanks to digital technologies provided for example by touchscreen totems or self-service kiosks enabled for payment transactions, many companies provide a unique and continuous experience, which starts online and continues in the store or vice versa, and which allows you to collect useful data for marketing, storage and sales forecasts. A speech that also applies to services, such as the case of MSC on board its cruise ships.
For other companies, the use of digital signage has proven successful . Let's see, for example, the use of large network-controlled displays, with the specific purpose of sending content and calls to action to the consumer.
In this way, hot spots are defined within the various areas of the store where to communicate the right message, to the right target, at the right time.
Advantages of Digitals Signage in numbers
Digital signage within the point of sale generates a multiplicity of advantages that deserve careful study.
According to Asus / Nielsen data, digital signage ensures:
400% more views than poster design

33% additional sales for brands using DS (digital signage) in store

70% of the audience reached by digital signage

35% or more, the reduction in the perception of waiting time at the point of sale

32% additional sales growth

63% of people say DS catches their attention
Some examples of omnichannel logics and strategies to combine physical and digital stores
Today there are many and different uses of digital signage, and this is obviously linked to the different objectives that are intended to be achieved. Let's see some cases.
In some cases we see the use of Kiosk Nice type totems placed near the store with engaging content and messages designed for the " drive to store ", or rather to entice consumers to cross the threshold.
In other cases we find a promotional strategy that is expressed through a QR code and a " call to action " aimed at downloading a discount voucher or participating in a drawing. Here too, by means of a touch screen totem.
Obviously these are initiatives aimed at acquiring data in the store, since it will join those collected online to support email marketing initiatives.
A successful application in terms of return on investment is the positioning of digital totems in the store for consulting the digital catalog. This allows for a richer display of articles, shown clearly and prominently. A strategy that turns out to be successful if it also offers the consumer the possibility of ordering directly on the touch display, letting him decide the delivery method.
For example, Kiosk Virtual Salesman is a system that acts as a " trait d'union" between physical store and online store and which has proved to be suitable and used also by the average consumer, perhaps less digitized and still a frequent visitor to shops.
An intelligent strategy that allows the retailer to expand the offer in their point of sale by reducing stocks. Furthermore, he can now collect useful data to further improve his marketing and sales strategies.
In this way, every single application is part of a data collection design for relevant analytics and for increasingly accurate profiling within its own CRM.
Would you like to know more?

Talk to one of our specialists and find out the right steps to implement an effective omnichannel strategy.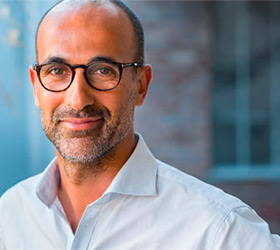 Would you like to know more?
Talk to one of our specialists and find out the right steps to implement an effective omnichannel strategy.