Leading organizations today use VoC as a tool to better understand customer needs.
By implementing VoC throughout the customer journey or customer journey , organizations can understand what matters most and what actions need to be taken to improve satisfaction, better delight their customers, and maximize profitability.
Thanks to VoC it is possible to collect more in-depth feedback on the needs, expectations and preferences of your customers, thus allowing you to make timely improvements to products and services in a short time.
The VoC research method has gained a lot of attention in recent years and is a rapidly growing tool in the strategies of many organizations, especially large brands operating in competitive markets, where customer experience is the key to driving more sales.
What is VoC?
Voice of the Customer (VoC) is a process of acquiring the customer's expectations, preferences and aversions towards a good or service.
Specifically, the Voice of the Customer represents a market research technique that produces a detailed set of customer wishes, needs and needs, and therefore describes the distance between customer expectations and their actual experience with the company and with the brand.
This technique is very useful in anticipating market crises, evaluating new products, services, improving the offer, better defining the buyer persona , understanding the factors that make a product or service adverse to the market and therefore changing its fate.
There are several useful tools for listening and analyzing VoC. Among these we mention:
On and off line surveys, conducted with the use of smileys.
Net Promoter Score (NPS), which is a tool for measuring the loyalty of a company's customers.
Kiosk Emoticon is one of the most used tools for listening and analyzing VoC, having been designed to allow users to give a concise judgment on the service received, also indicating the reasons for satisfaction and dissatisfaction.
Accurate reporting allows a timely analysis of the satisfaction of expectations and an understanding of the reasons for the customer's aversion.
---
Find out how Kiosk Emoticon works
---
Online and offline surveys are a great way to acquire VoC data.
They help to understand customers and identify problems in near real-time, however it is essential to ask the right questions to get reliable answers and to place them appropriately along the customer journey.
This is why it is necessary to design surveys very well and use platforms dedicated to this type of survey.
VoC data collection software
With customer journeys becoming increasingly complex, there are many factors that can influence a user / customer's experience and perception of a brand.
Therefore, the ability to connect, collect and analyze customer feedback at each touchpoint or touchpoint is essential.
With a VoC software such as Kiosk Emoticon it is possible to collect the voice of the customer on a variety of channels and gain important feedback on the perceived customer experience.
These feedback loops allow you to collect, analyze and learn customer data in real-time, in an ongoing process that facilitates continuous improvement and drives positive changes towards products and services that best meet customer needs.
VOC software can help you:
Identify areas for improvement along the customer journey
Act promptly
Prioritize what customers want most
Prioritize improvement and ride the required change in the customer experience
Collect feedback from customers on new services, ideas and solutions
Promote customer loyalty and profitability
Want to see Kiosk Emoticon at work?

Find out how Kiosk Emoticon allows you to know the needs of your customers and improve your business.

Book a live demo and find out in detail.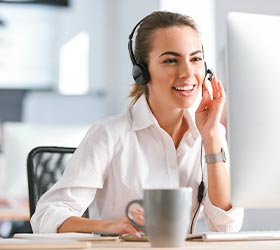 Want to see Kiosk Emoticon at work?
Find out how Kiosk Emoticon allows you to know the needs of your customers and improve your business.
Talk to our account and evaluate our proposal.