In recent years we have witnessed an increase in advertising investments in the so-called DOOH – Digital Out Of Home, dynamic advertising broadcast on outdoor advertising totems and large format LED displays .
A strategy that produces results if messages, content and information are provided in a clear and highly visible way, regardless of the surrounding environment and weather conditions. And if they arrive at the right target at the right time.
These conditions require that the means of distribution and diffusion, i.e. digital advertising totems, are solid and reliable, able to function in any climatic condition: summer, winter, by the sea or in the mountains. Non-trivial technical requirement: if we take a good look around, we can see that there are many cases in which the displays are unreadable, not connected, or dark because they are turned off due to excessive overheating.
The objective of communicating, informing and advertising in real time therefore requires a reasonable technological investment.
The quality of the components and manufacturing of these advertising totems is the fundamental requirement, too often neglected in the name of the creative message and the special price; however, it is precisely the quality of the product that ensures the transmission and visibility of advertising, also affecting the duration of the investment and therefore the final ROI .
Why use outdoor advertising totems?
The use of outdoor advertising totems is part of a market sector called digital signage .
Digital signage has evolved into an extremely efficient and eye-catching means of delivering multimedia content. Business owners, marketers, brand managers and advertising agencies have by now verified the real benefits of informing, promoting and entertaining specifically targeted consumers.
Their effectiveness has been highlighted in several researches dedicated to OOH, in which the important role in highlight the brand along the path that leads the shopper to the store.
Even if with a little delay compared to other European countries, even in Italy it is now possible to find this evolution of the advertising medium.
Traditional, static and labour-intensive advertising signage, represented essentially by posters and billboards, is increasingly being replaced by flat screens and digital content on digital advertising totems of different sizes or by LED walls, usually networked, controlled in remotely, often via the Internet, from any imaginable global location.
Thanks to modern advertising totems it is possible, for example:
completely zero printing costs
eliminate the costs of distribution of posters
show different messages, different campaigns, on the same advertising totem, in rotation, scheduled for times of day or other
benefit from a rapid diffusion practically in real-time
manage multiple campaigns, thanks to the advanced programming and scheduling features provided by digital signage software
ensure national or local and proximity coverage
cluster distribution also by geographical criteria
monitor distribution and measure the effectiveness of the message thanks to data collection
benefit from the video as a type of message, more impactful than the static message
ensure greater attractiveness to the message, thanks to the size and brightness typical of outdoor displays
ensure vandal-proof robustness and greater guarantee of operation compared to similar external displays
The list of reasons for use is certainly even longer and such as to justify massive investments by OOH agencies and players in cities and places with a high turnout of the public.
Thanks to the new digital advertising solutions on specific outdoor totems, today brands can get in touch with their target audience, with the right content at the right time, with captivating messages that strike and capture the attention of passing consumers , directing its flow to the store. An industry report highlights how they are more likely to drive attention and action than any other direct marketing tool.
| | | |
| --- | --- | --- |
| 80% of consumers involved in the Nielsen study "Digital Out-of-home Advertising Report 2020" say they entered a store because a screen caught their eye. | 86% of the shopkeepers interviewed declare that they have recorded a 30% increase in sales since the introduction of displays in their point of sale. | 45% of passersby notice the displays with directions to a store; 70% after seeing the advertisement on a display go to the store; 89% make a purchase while visiting the store. |
Consumer Buyer Journey research
The recent Consumer Buyer Journey research conducted by Clear Channel Italia on a sample of 1,098 interviews, highlighted the role of outdoor advertising in the purchasing process that we report here.
The survey investigated the drive-to-action capacity of out-of-home advertising but also, more broadly, some purchasing dynamics.
According to the results, two thirds of respondents go to a shop after seeing it in an outdoor advertisement. Even if shopping experiences are almost always planned, only a third has a clear idea of what they will buy and as many as 8 out of 10 make the final purchase decision on the spot.
For example, 55% of respondents bought a product after seeing it on the advertising screens in a shopping centre.
It is precisely the latter formats that are most noticed (by 88% of the sample) and which are believed to create awareness of new products (64%), curiosity about the same (58%) and make the choice easier (46%)."
How does DOOH work on outdoor advertising totems?
Outdoor digital advertising (DOOH) is based on digital signage technologies, i.e. on digital totems or LED displays, of variable size based on the objective and the possibility offered by the location.
With dynamic DOOH advertising, each screen becomes customizable, accountable and attributable, according to a strategy known as "3A": Addressability, Accountability, Attribution.
Addressability, or the ability to activate advertising campaigns aimed at specific consumers
Accountability, or reporting, the measure of the effectiveness of advertising.
Attribution, or attributability, the power to measure real business results based on advertising.
The outdoor digital advertising industry can provide more data on demographics, audience engagement, and offline-to-online attribution.
This makes DOOH advertising extremely impactful, intelligent and targeted, becoming a fundamental component of every brand advertiser's multi-channel strategy .
Recent estimates predict that the global outdoor digital advertising market will reach $31.7 billion annually by 2025. There is therefore a huge opportunity for multimedia networks and their advertisers to make a difference by leveraging the latest digital signage technologies.
In a recent report by the Global Market Insight it is estimated that by 2025, investments in the Digital Out Of Home will exceed those of traditional advertising; and not just by classic investors. For example, the well-known streaming channel Netflix, in order to capture an offline target, last year invested 150 million dollars for the installation of 32 digital "billboards" in the city of Los Angeles.
The report also highlights that the use of Digital Signage exploits the natural propensity of people's attention to be attracted by moving images or videos: a recent British research shows that DOOH ads have the twice as likely to be seen, and I'm 2.5 times more incisive compared to traditional outdoor advertising.
---
Are you looking for outdoor advertising totems to create a DOOH network?

Book a call with one of our specialists or take a look at our line-up of outdoor advertising totems
---
DOOH programmatic advertising
When it comes to selling their ad space, programmatic networks can take advantage of another benefit that outdoor digital advertising offers – support for programmatic platforms.
Thanks to the digital signage technology present in outdoor advertising totems, the contents can be managed via software, making it much easier to manage and adapt to customer data. This makes programmatic advertising possible, meaning an advertiser can directly access a network's inventory and book passes based on the demographics of the audience they prefer. This way, advertisers can only reach the audience they're really looking for.
Marketing analysis thanks to data collected through outdoor advertising totems
A noteworthy note is certainly the presence of new analytics features. By equipping outdoor advertising totems with appropriate sensors, it is possible to determine how many people have passed in front of the display, how many have seen the message, and how much time they spent looking at it.
It follows that it is possible to collect audience data and consequently evaluate the effectiveness of the advertising communication transmitted, without profiling or tracking users, in compliance with privacy.
In fact, it is important to keep in mind that from the information collected (albeit with a certain degree of approximation) it is possible to infer characteristics of the consumer or passerby such as gender, age range, distance from the screen, but also to underline that the presence of a face is detected through algorithms of mere "face detection" and not "face recognition", for which the system does not identify the face of the individual through biometric data but detects the presence of a human face.
Furthermore, no personal data is permanently stored in the system since the deletion of the images of the interested parties is almost immediate.
Criteria for choosing outdoor advertising totems
Among the elements that better characterize some products on the market than others there are certainly the anti-vandal characteristics of the structures and displays, the high brightness of the displays, the internal hardware operating controllers of all the peripherals (PC, sensors, etc.), the degrees protection against water and dust, and more.
Thanks to continuous product innovation, today it is possible to satisfy even the most demanding requests in terms of protection and climatic conditions.
For example, all our outdoor totems meet anti-vandal safety requirements and high levels of operation, with IP55 , IP56 , IP65 and IK10 ratings.
Obviously the choice of the product must also take into account the place where it is placed, i.e. in completely open or semi-open places.
Kiosk provides for example for one use semi external model Kiosk Lite (from -20°C to +40°C, class IP55) while for more and more uses extremes let's go to the model Kiosk Flow (from -25°C to +40°, IP56 class) to the model Kiosk G7, the top of outdoor advertising totems, capable of operating from -40°C to +55° and with IP66 class.
Optimize the results of your campaigns
Advertisers and brands today, thanks to digital totems, can create dynamic experiences and make the most of these resources by analyzing the data collected.
Thanks to the Kiosk outdoor advertising totems, without profiling or tracking users, it is possible to draw on the data collected at any time of the day and carry out corrective actions on the campaign.
This way, brands and advertisers can finally engage more effectively with their audience.
Would you like to know more?

Kiosk is able to help you choose the best product for outdoor advertising.

Talk to one of our consultants.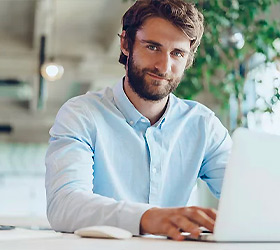 Would you like to know more?
Kiosk is able to help you choose the best product for outdoor advertising.
Talk to one of our consultants.