One of the reasons why you review a website is linked to the failure to achieve your sales objectives: in other words, you try to remedy it with restyling, acting on design and content, to attract visitors, or to increase overall traffic. But how do you calculate the traffic a website needs to reach monthly sales goals?
Based on our experience, we have created a spreadsheet with which our clients develop marketing strategies for the inbound activities necessary to support their revenue generation goals.
There are refined tools to calculate the traffic needed by a website to achieve sales objectives, but we must not forget the fundamentals, which are easy to understand even for most people or for those who are not customers.
That's why we wrote this article, not too complex and easy to apply, also based on the contribution provided by Hubspot .
The upstream considerations are:
the collection objectives determine the sales objectives
sales goals determine the goals of qualified leads
Qualified lead goals determine site visitor goals.
We can summarize the points in the following diagram: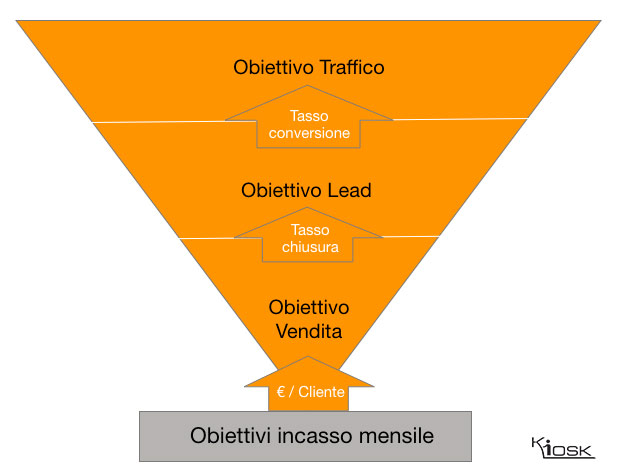 Calculate the number of new customers needed in a month
Every business has monthly or quarterly revenue goals. If you are a small business owner or an SME or a startup, you should do this calculation to have this data.
The formula is pretty simple: number of new customers per month = monthly revenue target / average revenue per new customer
Calculate the number of leads needed to meet your customer count goal
The only way to calculate this number is to know the conversion rate your site is capable of generating, i.e. how many visitors to your site become leads. And among these, how many are qualified.
If you're still relying on cold calling, this is hard to do. But, even if you do old-school type outbound activities like cold calling and direct mail, you should have some control over the number of your scheduled appointments.
In this case we can assume that a 'fixed appointment' through direct-mail, or cold calls or as a result of a trade-show is like an incoming lead, only colder.
Any well-managed sales organization has this data, which is the lead-to-customer conversion rate.
Formula: No. of target leads to generate = No. of new target customers / lead-to-customer conversion rate
Calculate the traffic needed to generate the number of leads needed
Let's assume that your website has Google Analytics configured and therefore allows you to easily know the number of visitors to your site. From there, you also need to monitor the number of leads you receive from your website per month.
If you've set up and configured some sort of lead tracking, you should be able to get this number very quickly. It expresses as a percentage the number of visitors who have performed a desirable action. So for example if 5 out of 100 visitors have bought something, the conversion rate is 5%.
If you have no idea what the visitor-to-lead conversion rate is worth, you can assume it's in the range of 1-3%. On the other hand, if you are doing online lead generation activities correctly, you could achieve a 5-10% conversion rate for visitors.
Using the formula below you will be able to calculate the number of visitors needed monthly to reach your business goals.
Here's the formula: N ° Visitors Needed = N ° Goal Leads / Visitor to Lead Conversion Rate.
Now the key question. How do you get more traffic?
The answer is with targeted inbound marketing activities, appropriately using SEO, Email, BLOG and Social to reach your customer in the right way and at the right time, in tune with the customer journey.
Doing inbound marketing means doing activities that bring the right customer to find you, get to know you and become familiar with you to the point of preferring you to other suppliers.
It has nothing to do with past interruption activities, but with creating marketing that the customer loves and needs.
Would you like to know more?

Talk to one of our web specialists and find out the right steps to implement an effective online presence.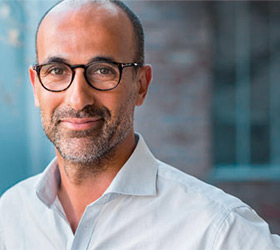 Would you like to know more?
Talk to one of our web specialists and find out the right steps to implement an effective online presence.